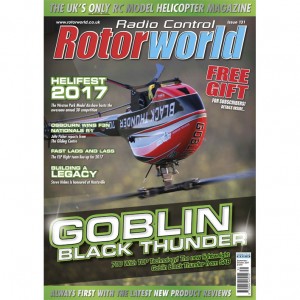 Reviews
10 Blade mSR S
The latest Blade heli is a micro-sized model capable of 3D fl ying indoors and out
equipped with SAFE technology to inspire confi dence.
24 SAB Goblin Black Thunder 700 T-Line
This 700-sized Goblin stands out with its T-Line blades and was developed along
with TOP SAB Technology, targeting a low overall weight.
Features
20 Osbourn Leads The League
Round one of this year's F3N National League would take place at The Gliding
Centre and whilst Duncan Osbourn would lead the Pro class, 2017 would see
many newcomers up for the competition.
36 Helifest 2017
The annual mega show at Weston Park hosts the Helifest event and once again
this drew in the top pilots as they travelled from all over Europe to compete at
the prestigious competition.
42 A Legacy for Steve Helms
The annual Huntsville Fly In would become the Steve Helms Memorial Fun Fly
and pay tribute to a man who always went the extra mile to help a fellow pilot.
48 The Fast Line-Up
The latest flight team for Rotorworld to focus on is Fast Lad Performance who
always put on a great show with their varied and very experienced line-up.
56 Seven Years On
First released in 2010, Align's T-Rex 700 has seen some revisions over the years
and with the 700X recently released, we take a look at just some of the key
updates.
Regulars
04 Word of Mouth
An apology from the Editor.
08 Straight Up
The latest news and information from the world of RC model helicopters.
34 Through the Lens
Ahead of a future review, here is an insight into the new Fireball from SAB Goblin
45 Cutting Edge
We show off all the new helis, components and associated products.
63 Coming Up
Check out forthcoming events for the next few weeks.
63 Next Issue
An insight into some of the features planned for issue 132.
64 UK Buyers Guide and Classifi eds
The best model heli shops, products and services.
65 Rotorworld Subscriptions
Get your favourite RC heli mag delivered to your door.