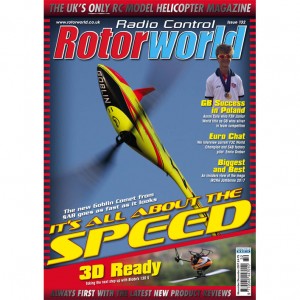 Reviews
24 SAB Goblin Comet
The new Goblin Comet concept from SAB features an innovative
structural layered carbon fuselage design that supports the main rotor,
tail rotor and battery pack as modules.
36 Blade 130 S
The new sub-micro sized heli targets the new pilot with a range of
settings to help build confi dence and improve their skills.
Features
12 Brit Wins at the Worlds
Poland would provide more success for the British pilots a year after
hosting the F3N European Championships with Aaron Cole taking the
junior F3N world title and GB winning silver in the team competition.
20 Inside Ennio
Dave Dijkmans catches up with SAB factory pilot Ennio Graber for some
insights and additional information on the new Urukay Carbon Ennio
Graber Edition including set-up as well as tips and tricks.
42 F3N National League
Fast Lad Performance-sponsored pilot Alex Hawtin was on top form as
the second round of this year's F3N Nationals took place in Staffordshire
as he topped the Pro class from young gun Aaron Cole.
52 World Class
The IRCHA helicopter jamboree is one of the largest model aviation
events in the world and certainly the largest model helicopter event of
all time as Tim DiPeri reports.
58 Align Flight Team
In his latest instalment, Jamie Cole analyses the 2017 line-up of pilots
representing the Align fl ight team.
Regulars
04 Word of Mouth
The Editor decides to send some smoke signals!
08 Straight Up
The latest news and information from the world of RC model helicopters.
18 Cutting Edge
We show off all the new helis, components and associated products.
34 Through the Lens
Scale action in this issue's poster with the 700-size Roban EC-225 as fl own
by John Tanner in Redhill, Surrey.
62 Coming Up
Check out forthcoming events for the next two months.
63 Next Issue
An insight into some of the features planned for issue 133.
64 UK Buyers Guide and Classifi eds
The best model heli shops, products and services.
65 Rotorworld Subscriptions
Get your favourite RC heli mag delivered to your door.