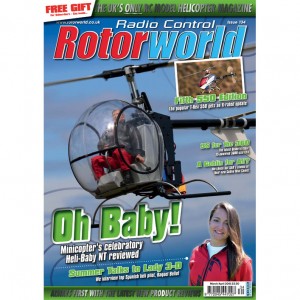 Reviews
8 Minicopter Heli-Baby NT
Some 40 years on from the original Heli-Baby model,
Minicopter has launched the New Technology version that
pays tribute to Dieter Schlüter's example, but with some
modern-day updates.
36 Align T-Rex 550X
More power, reduced weight, greater performance and many
design changes highlight the latest incarnation of the T-Rex
550 model.
46 Blade 360 CFX 3S
With a carbon fi bre frame and blades, the latest Bind-N-Fly heli
from Blade focuses on the intermediate pilot who wishes to
step up into 3D aerobatics with the convenience of a pre-built,
3S-powered platform.
54 SAB Goblin Mini Comet
The new Goblin Mini Comet from SAB targets a new sector of
heli that claims it can be fl own by both new pilots and those
who want 3D capability. Add in a low price and the pocketsized
model ticks many boxes.
Features
22 Music City Helicopter Championships
Tim DiPeri reports from the annual Music City Helicopter
Championships that takes place late in the season at
Nashville in Tennessee.
28 Talking Helis with the First Lady of 3D
Summer Fisher chats to world-class female 3D pilot Raquel
Bellot to fi nd out how she got started in RC helis and the
dedication it takes to get to the top.
Regulars
02 Rotorworld Subscriptions
Get your favourite RC heli mag delivered to your door.
04 Word of Mouth
Rotorworld makes some fantastic signings to further
compliment the editorial team.
06 Straight Up
The latest news and information from the world of RC model
helicopters.
18 Cutting Edge
We show off all the new helis, components and associated
products.
34 Through the Lens
Getting the best out of the latest Blade.
62 Coming Up
Check out forthcoming events for the next few weeks.
63 Next Issue
An insight into some of the features planned for issue 135.
64 UK Buyers Guide and Classifi eds
The best model heli shops, products and services.