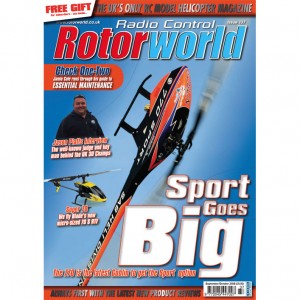 Reviews
26 Blade 70 S RTF
The manufacturer claims that their new 70 S is, "the perfect indoor ultramicro
heli" so we just had to find out for ourselves.
42 SAB Goblin 770 Sport
As the name suggests, the Sport version of the Goblin 770 claims to offer
both the feel and performance of the top of the range model but at a
more cost-effective price.
60 The Worker Bee
After enjoying the results of Ooznest's C-Beam CNC router, we take a
look at their WorkBee that is capable of making parts from plastic and
aluminium to 0.2mm accuracy.
Features
12 Maintaining Performance
Pre- and post-flight checks are part and parcel of keeping your heli
performing at its best and avoiding issues that could lead to it falling out
of the sky as Jamie Cole explains.
20 Judge Jason
Aaron Cole talks with F3N judge Jason Platts of 3D Championship fame
to find out all about the man behind the event, its history, the classes
and the future.
36 Team MiniAirshow
Popham Airfield would host the fourth Mini Airshow that tied in with
International Drone Day but attracted a whole range of flying models to
appeal to enthusiasts and the public.
50 Helifest 2018
The show at Weston Park in Shropshire is one of the most looked forward
to events of the year and in 2018 it was blessed with great weather with
heli flying action to match.
56 Shizuoka Show Time
Marcus Nicholls travelled to Japan for the annual Shizuoka Hobby Show
to grab some photos of the helis and accessories on display.
Regulars
04 Word of Mouth
Heading to North Weald and Wings & Wheels 2018.
08 Straight Up
The latest news and information from the world of RC model helicopters.
11 Rotorworld Subscriptions
Get your favourite RC heli mag delivered to your door.
18 Cutting Edge
We show off all the new helis, components and associated products.
34 Through the Lens
This issue we have a lovely Help For Heroes custom build based on an
Align T-Rex 600ESP piloted by Chris Bradbury.
63 Coming Up
Check out forthcoming events for the next few weeks.
63 Next Issue
An insight into some of the features planned for issue 138.
64 UK Buyers Guide and Classifieds
The best model heli shops, products and services.