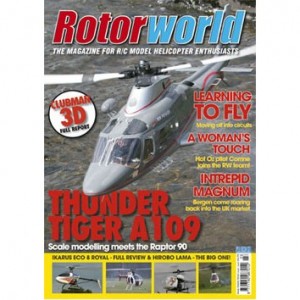 August / September 2007 Published August 3rd
Reviews:
• BERGEN INTREPID MAGNUM
It's been around for ten years, and the development continues.
Richard Budd test drives the latest version
• TT AGUSTA 109
Iain Erskine treats himself to Thunder Tiger's stunning new 90-size fuse
• IKARUS ECO 8 ROYAL
The original outdoor electric has been given a complete make-over. Full review
• T-REX 600: THE FLYING NOTES
Last month we did the nuts-and-bolts bit, but how does the '600 actually perform?
Features:
• CLUBMAN 3DX
Who won the UK's first 3DX affiliated event?
• BUILDING THE BELL
John Neasham builds 'the big one'
• LEARNING TO FLY
Take the plunge and try those first circuits – Nigel Fraser Ker shows us how
• PHOTO OF THE MONTH
Richard Budd's Bergen Intrepid Magnum
• A WOMAN'S TOUCH
Oh, yes people – our first lady columnist is here!
• COLIN DOWN UNDER
Colin hops on a plane to New Zealand, whizzes around a bit then goes back to Oz. Phew!