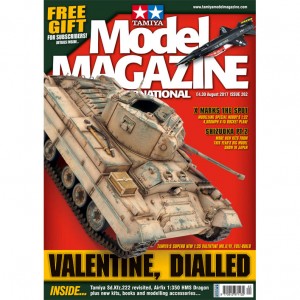 52 FASTEST HUNK OF JUNK
IN THE ATMOSPHERE
Modelling Special Hobby's 1:32
4,000mph X-15 rocket plane
30 VALENTINE, DIALLED
Tamiya's superb new 1:35 Valentine
Mk.II/IV, full-build
8 SHIZUOKA PT.2
More new kits from this
year's big model show
in Japan
4 NEWS DESK
New kit and model product news
14 LEICHTER PANZERSPÄHWAGEN
IN 1:35
A Tamiya classic with some up-to-date painting
techniques
20 D FOR D-GROOVY!
Tamiya's 1:32 Vought Corsair returns, this time in
F4U-D form
22 GRUMPY OLD GROUCH!
Tamiya's new 1:35 Sturmpanzer IV Brummbär,
previewed
24 …THOSE DARING RASCALS
Airfix's 1:350 Daring Class destroyer built as
HMS Dragon
40 NEW RELEASES ACCESSORIES
New and recently issued modelling accessories
46 NEW RELEASES KITS
New full kits, reviewed
60 BOOK REVIEWS
New and recent books related to scale modelling
64 CONTACTS
Where to buy the products used and reviewed
in TMMI
66 THE EDITOR'S PAGE
AT-AT on the attack!