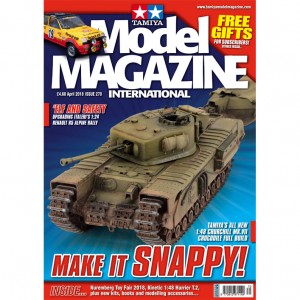 34 MAKE IT SNAPPY!
Tamiya's all new 1:48 Churchill Mk.VII
Crocodile full build
8 NUREMBERG TOY FAIR 2018
TMMI return from Nuremberg with news of
the new kits for 2018
46 'ELF AND SAFETY
Upgrading Italeri's 1:24 Renault
R5 Alpine Rally
4 NEWS DESK
New kit and model product news
20 THE MEN IN BLACK, PART 8
Tamiya's new eight-man 1:35 Wehrmacht
tank set
26 IBERIAN ATTACKER!
Kinetic's new 1:48 T-Harrier in Spanish Navy
colours
44 NEW RELEASES
ACCESSORIES
New and recently issued modelling
accessories
52 THERE'S KLINGONS ON
THE STARBOARD BOW!
Barry Ford takes on Revell's Klingon Cruiser
and wins!
58 PANTHER'S TRACKS
Rye Field Model's all-new 1:35 Panther
Ausf.G, previewed
60 BOOK REVIEWS
New and recent books related to scale
modelling
64 CONTACTS
Where to buy the products used and
reviewed in TMMI
66 THE EDITOR'S PAGE
Tamiya have an all new 1:35 M3 Stuart!