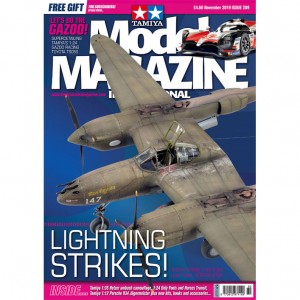 26 LET'S DO THE GAZOO!
Superdetailing Tamiya's 1:24 GAZOO
Racing Toyota TS050
20 CZECH MATE! PAINTING TAMIYA'S 1:35 RABBLE-ROUSER
Tamiya's beautifully designed and easy to assemble Jagdpanzer 38(t) gets ambush camouflage
8 LIGHTNING STRIKES!
Tamiya's new 1:48 P-38 Lightning,
step-by-step
4 NEWS DESK
New kit and model product news
24 LITTLE CAT AT KURSK!
Tamiya's 1:48 Panther Ausf.D, previewed
40 NEW RELEASES ACCESSORIES
New and recently issued modelling accessories
46 NEW RELEASES KITS
New full model kits reviewed
52 RODNEY, IT'S OUR LOVELY
JUBBLY TRANSIT!
Del Boy and Rodney get a new ride and it's a
Ford Transit!
58 THE 'MEISTER RETURNS
Tamiya's 1976 1:12 Porsche 934 Turbo,
previewed
60 BOOK REVIEWS
New and recent books related to
scale modelling
64 CONTACTS
Where to buy the products used
and reviewed in TMMI
66 THE EDITOR'S PAGE
How to paint a Pz.38(t)?