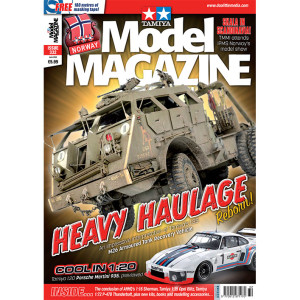 24 HEAVY HAULAGE
An impressive repaint
of Tamiya's 1:35 M26
Recovery Vehicle
EASY
EIGHT: BIG IS
BEAUTIFUL!
Spencer Pollard
concludes his look
at the AHHQ 1:16
M4A3E8 Sherman
6 SKALA IN SCANDINAVIA!
TMMI attends IPMS Norway's
excellent 'SKALA' model show
4 NEWS DESK
New kits and model product news
16 BOX BOX BOX!
Tamiya's 1:20 Porsche Martini 935,
previewed
18 BABY BUTTON NOSE!
Tamiya's gem-like 1:72 P-47D
Thunderbolt 'razorback'
46 NEW RELEASES ACCESSORIES
New and recently issued modelling
accessories
50 NEW RELEASES KITS
New model kits reviewed
54 BLITZ BABY!
Tamiya's 1:35 'German 3 Ton Cargo
Truck', weathered-up
60 BOOK REVIEWS
New and recent books related to
scale modelling
64 CONTACTS
Where to buy the products used and
reviewed in TMMI
66 THE EDITOR'S PAGE
Tamiya's big Lotus 78 returns!