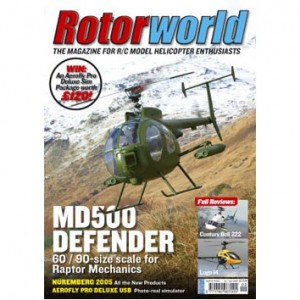 Reviews:
• HUGHES 500 DEFENDER – Thunder Tiger's superb Raptor scale-up fuselage impresses Iain Erskine
• AEROFLY PRO DELUXE USB – Photo-real scenery, more models and exponential control comes to the popular Ikarus computer simulator
• CENTURY BELL 222 – New and impressive standards of detailing make their debuts on Century's latest fuselage
• LOGO 14 – Russ Deakin takes his Rotorworld bow with a look at Mikado's hot electric 3D machine
Features:
• I SAY, I SAY… – How should you maintain your helicopter? Over to Dave Fisher, Steve Roberts, Pete Christy and Colin McGinn…
• COMPETITION – Win a superb Aerofly Deluxe USB sim, worth £120!
• LEARN AEROBATICS – F3C hovering M's, neat stall turns and top-hats
• LEARNING CURVE – Hovering left and right, playing with a
Hummingbird V3, and canopy cutting
• ELECTRIC CENTURY BELL 47 – Fantastic scale conversion project
Events:
• HENDON SCHOOLS DAY – Some of the UK's top pilots visit the RAF museum to show the younger generation what it's all about
• NUREMBERG 2005 – All the new products you need to know about, in one giant, seven-page photo report!
Plus:Â News, events diary, and new products