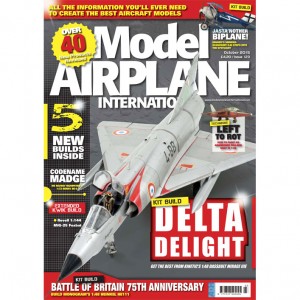 Issue 123 published on 24th Sept 2015
REGULARS
P04 – EDITORIAL
P06 – NEWSLINE
P76 – EVENTS DIARY
P77 – CONTACTS DETAILS
P81 – NEXT ISSUE
P82 – FINAL THOUGHTS…
REVIEWS
P10 EXTENDED KWIK BUILD
Revell 1:144 MiG-25 Foxbat
P62 NEW RELEASES KITS
The latest kit releases assessed
P66 KIT PREVIEW
Wingman Models 1:48 IAI Nesher
P68 NEW RELEASES PAINTS
The latest finishing products tested
P70 NEW RELEASES DECALS
Decorate your aircraft models with these new
sheets
P72 NEW RELEASES BOOKS
Some of the latest aviation and modelling titles
FEATURES
P16 BATTLE OF BRITAIN SERIES NO. 10
Alan Price continues his series to commemorate
the 75th Anniversary of the BoB with a build of the
Monogram Heinkel He111
P22 LO AND BEHOLD
We take a look at Eduard's love affair with this
portly little fighter, from their very first 1:48 biplane
kit through to their latest release.
P32 LEFT TO ROT
Jamie Haggo shows how to paint and weather a
pretty, Airfi x 1:48 Folland Gnat, to create a less than
pretty little model!
P40 DASSAULT'S DELTA DELIGHT
Mike Williams takes a look at one of the latest kits
of this beautiful aircraft, Kinetic's 1:48 offering.
P50 CODENAME MADGE
Drewe Manton takes a detailed look at the new
Trumpeter Beriev Be.6
P56 IT'S SHOWTIME!
Plenty of highlights from this year's Royal
International Air Tattoo.