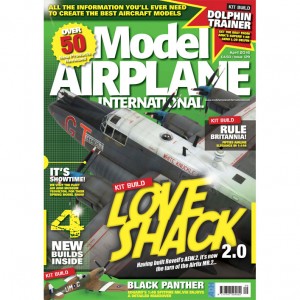 Issue 129 published on 24th March 2016
REGULARS
P04 – EDITORIAL
P06 – NEWSLINE
P76 – EVENTS DIARY
P77 – CONTACTS DETAILS
P81 – NEXT ISSUE
P82 – FINAL THOUGHTS…
REVIEWS
P30 KIT PREVIEW
Wingnut Wings 1:32 Albatros B.II
P60 NEW RELEASES KITS
The latest kit releases assessed
P64 NEW RELEASES PAINTS
The latest kit finishing products assessed
P66 NEW RELEASES ACCESSORIES
The latest aftermarket releases assessed
P70 NEW RELEASES BOOKS
Some of the latest aviation and modelling titles
P74 NEW RELEASES DECALS
Decorate your aircraft models with these
new sheets
FEATURES
P10 IT'S SHOWTIME
We visit Yeovilton for their Spring Model Show.
P12 HIDDEN GEMS
You find restored aircraft in the oddest of places…
P14 LOVE SHACK 2.0
Spencer Pollard builds the Airfix 1:72 Avro
Shackleton MR.2
P26 FANCY FLIERS
Alan Firbank shows off some of the RAF's
Anniversary Tornado and Typhoon aircraft
P30 RULE BRITANNIA!
Marcus Jellyman builds a classic 1950s
airliner in 1:144
P38 BLACK PANTHER
Jason Brewer builds Eduard's 1:48 Spitfire Mk.VIII
P46 DELFIN – AN AVANT GARDE
MASTERPIECE
The Editor builds and details AMK's superb 1:48
Aero L-29
P54 DELFIN IN DETAIL
Zac Sex photographs a restored L-29, to provide
plenty of details for builders of AMK's kit.