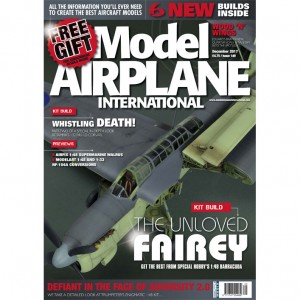 REGULARS
P04 – IN THIS ISSUE
P06 – NEWSLINE
P10 – COMMENT
P78 – EVENTS DIARY
P79 – CONTACTS DETAILS
P81 – NEXT ISSUE
P82 – FINAL THOUGHTS…
REVIEWS
P68 NEW RELEASES KITS
What will you be building in the months to come?
P70 NEW RELEASES ACCESSORIES
What will you be using to dress up you kits in the
months to come?
P74 NEW RELEASES BOOKS
The latest decal releases assessed.
P76 NEW RELEASES DECALS
Some of the latest aviation books assessed.
FEATURES
P12 KIT PREVIEW
ModelArt unveil their 1:48 and 1:32 NF-104A
conversions.
P14 WHISTLING DEATH
Alan Price continues his detailed look at the Tamiya
1:32 F4U-1D Corsair.
P20 THE UNLOVED FAIREY
Greg Phillips builds the involved Special Hobby
1:48 Barracuda.
P30 KIT PREVIEW
Haris Ali takes a look at the superb Airfi x 1:48
Supermarine Walrus.
P34 WOOD 'N' WINGS
Haris Ali builds the Eduard 1:48 SE5a.
P42 DEFIANT IN THE FACE
OF ADVERSITY 2.0
Alan Price tackles the enigmatic Trumpeter 1:48 kit…
P48 IN DETAIL
We take a quick look at Cosford's newly installed
Defi ant.
P50 TOXIC DEATH
Do you want to build a different-looking F-117? We
just might have the thing for you…
P58 BOMBCAT
Huw Morgan builds Revell's 1:72 F-14D Tomcat.