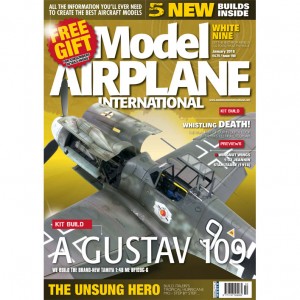 REGULARS
P04 – IN THIS ISSUE
P06 – NEWSLINE
P10 – COMMENT
P78 – EVENTS DIARY
P79 – CONTACTS DETAILS
P81 – NEXT ISSUE
P82 – FINAL THOUGHTS…
REVIEWS
P74 NEW RELEASES KITS
What will you be building in the months to come?
P75 NEW RELEASES DECALS
Some of the latest aviation books assessed.
P76 NEW RELEASES BOOKS
The latest decal releases assessed.
FEATURES
P12 KIT PREVIEW
Wingnut Wings release their 1:32 Jeannin
Stahltaube (1914). Haris Ali takes a look…
P18 WHISTLING DEATH
Alan Price completes his detailed look at the
Tamiya 1:32 F4U-1D Corsair.
P24 A GUSTAV 109
Spencer Pollard builds a very early sample of
Tamiya's 1:48 Me Bf109 G-6.
P38 IT'S SHOWTIME!
Alan Firbank brings us some of the highlights from
Scale Model World 2017.
P46 WHITE NINE
John Wilkes builds the excellent, Revell 1:32
Focke-Wulf Fw109A-8.
P54 THE UNSUNG HERO
Huw Morgan takes a look at Italeri's 1:48 Hurricane
Mk.I 'Trop' .
P62 PAVLOVICH'S WINGS
Bob Edwards tackles the Italeri 1:72 MiG 29.