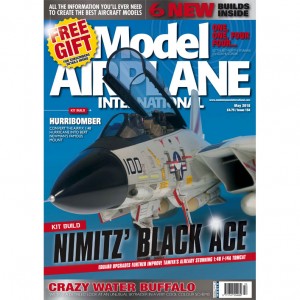 REVIEWS
P70 New Releases Kits
What will you be building in the months to come?
P71 New Releases Accessories
What will you be using to dress up your kits in the
months to come?
P74 New Releases Books
The latest decal releases assessed.
FEATURES
P22 One, One, Four, Four…
Welcome to a new, regular feature on this
increasingly popular scale. This month we take a
look at the AFV Club F4U Corsair.
P22 One, One, Four, Four News
New releases for fans of this very popular scale.
P24 From The Box…
Get the best from Airfi x cut-price 1:72 Zero.
P28 Nimitz' Black Ace
Eduard upgrades further improve Tamiya's already
stunning, 1:48 F-14A Tomcat.
P40 Hurribomber
Convert the Airfi x Hurricane into Bert Newman's
famous Mk.IV, KZ191, in 1:48…
P48 The Bugatti that took flight…
Build the stunning P100 in 1:72
P54 In Detail…
We take a look at Pensacola's beautifully
preserved A-1 Skyraider
P56 Crazy Water Buffalo
Get the best from Tamiya's excellent 1:48 Skyraider.
P64 In Colour
The UK's warbird scene unveils its collection
of A-1 Skyraiders.
REGULARS
P04 – IN THIS ISSUE
P06 – NEWSLINE
P10 – COMMENT
P76 – EVENTS DIARY
P77 – CONTACTS DETAILS
P81 – NEXT ISSUE
P82 – FINAL THOUGHTS…