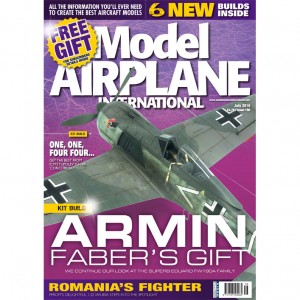 REGULARS
P04 – IN THIS ISSUE
P06 – NEWSLINE
P10 – COMMENT
P76 – EVENTS DIARY
P77 – CONTACTS DETAILS
P81 – NEXT ISSUE
P82 – FINAL THOUGHTS…
REVIEWS
P70 NEW RELEASES KITS
What will you be building in the months to come?
P71NEW RELEASES ACCESSORIES
What will you be using to dress up you kits in the
months to come?
P72 NEW RELEASES DECALS
What will you be decorating your kits with?
P75 NEW RELEASES BOOKS
The latest decal releases assessed.
FEATURES
P12 ONE, ONE, FOUR, FOUR…
Welcome to a new, regular feature on this
increasingly popular scale. This month we take a
look at the ICM Tupolev Tu-144
P18 ONE, ONE, FOUR, FOUR NEWS
New releases for fans of this very popular scale.
P20 WEEKEND WARRIOR
We build the Eduard Spitfi re IXc Late Version
'Weekend Edition'
P28 AIRBRUSH REVIEW
We test the Mr. Hobby Procon Boy FWA
P32 FROM THE BOX
How Eduard's 1:48 Fw190A-3 was used to replicate
a very famous WWII gift to the Royal Air Force…
P36 A-4 AWESOME
Mike Williams gets to grips with Eduard's stunning
1:48 Fw190A-4
P44 IT'S SHOWTIME!
We visit Cosford for the annual Shropshire Scale
Modellers Showcase
P48 THE FLYING GARDEN SHED
Stepping out of his comfort zone, the editor builds
the Wingnut Wings 1:32 Junker D.1
P56 VÂNATOR – ROMANIAN HUNTER
Iain Ogilvie builds the FRROM-Azur IAR-80A in 1:32
P66 KIT PREVIEW
Haris Ali takes a quick look at the Wingnut Wings
Sopwith Dolphin