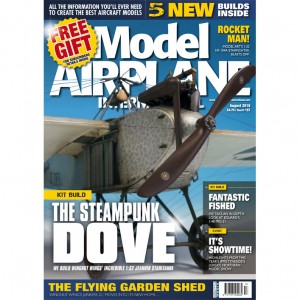 REGULARS
P04 – IN THIS ISSUE
P06 – NEWSLINE
P10 – COMMENT
P76 – EVENTS DIARY
P77 – CONTACTS DETAILS
P81 – NEXT ISSUE
P82 – FINAL THOUGHTS…
REVIEWS
P66 NEW RELEASES KITS
What will you be building in the months to come?
P70 NEW RELEASES BOOKS
The latest decal releases assessed.
P72 NEW RELEASES DECALS
What will you be decorating your kits with?
FEATURES
P12 ONE, ONE, FOUR, FOUR…
Welcome to a new, regular feature on this
increasingly popular scale. This month we take a
look at the pugnacious Beaufi ghter…
P16 ONE, ONE, FOUR, FOUR NEWS
New releases for fans of this very popular scale.
P18 THE FLYING GARDEN SHED
The Wingnut Wings 1:32 Junker D.1 moves in to its
new home…
P26 KIT PREVIEW
The editor takes a look at the brand-new Revell
1:48 Beaufi ghter Mk.TF.X
P30 THE STEAMPUNK DOVE
Haris Ali tackles the incredible Wingnut Wings 1:32
Jeannin Stahltaube
P40 FANTASTIC FISHBED
Chris McDowell builds one of the world's most used
fi ghter aircraft, the Mikoyan MiG-21.
P48 ROCKET MAN!
John Wilkes unveils his incredible 1:32 NF-104A
Starfi ghter…
P58 AIRBRUSH COMPRESSOR REVIEW
We test the Sparmax Zeta with 'Smart Stop
Hanger'
P62 IT'S SHOWTIME!
Highlights from this year's IPMS Tyneside's (Great)
Northern Model Show