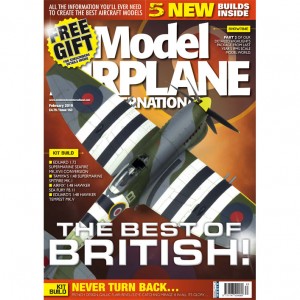 REGULARS
P04 – IN THIS ISSUE
P06 – NEWSLINE
P08 – COMMENT
P78 – EVENTS DIARY
P79 – CONTACTS DETAILS
P81 – NEXT ISSUE
P82 – FINAL THOUGHTS…
REVIEWS
P10 ONE, ONE, FOUR FOUR NEWS
All that's new for fans of this increasingly popular
scale.
P68 NEW RELEASES KITS
Which models will you be building over the coming
months?
P70 NEW RELEASES DECALS
Decals that you be using to decorate your
models…
P73 NEW RELEASES BOOKS
The latest additions to your library shelves.
FEATURES
P12 THE SPITFIRE THAT WENT TO SEA
Jamie Haggo converts Eduard's 1:72 Spitfi re Mk.XVI
into the pugnacious Seafi re Mk.XVII.
P20 SPITFIRE BIRD
The editor gets to grips with Tamiya's brand-new
1:48 Spitfi re Mk.I.
P30 PISTON-ENGINED PERFECTION
Alan Price improves the already superb Airfi x 1:48
Hawker Sea Fury FB.11.
P38 BEAMONT'S BUG HUNTER
Eagerly awaited, Drewe Manton takes a detailed
look at Eduard's stunning 1:48 Hawker Tempest.
P50 NEVER TURN BACK…
Mike Williams wrestles Revell's 1:32 Mirage III into
submission…
P58 IN COLOUR
Marcus Jellyman provides us with some interesting
shots of some of Europe's surviving Mirage IIIEs…
P62 IT'S SHOWTIME!
More highlights from this year's Scale Model World
2018. This month we concentrate on the club
stands.