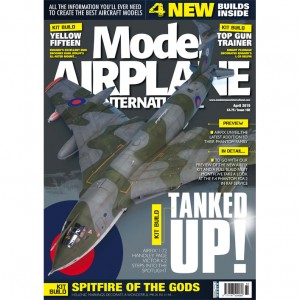 REVIEWS
P12 KIT BOX
Which models will you be building over the coming months?
P16 AFTERMARKET
Add-on parts that will improve your next build…
18 TRANSFER LIST
Some of the newest decal sheets that you'll be
using to decorate your models.
P20 IN PRINT
The latest additions to your library's book shelves.
P14 ONE, ONE, FOUR FOUR NEWS
All that's new for fans of this increasingly popular scale.
FEATURES
P24 SPITFIRE OF THE GODS
Hellenic markings decorate a wonderful Mk.IX in
1:144. Richard Nicholl tells the story…
P32 TANKED UP!
Spencer Pollard's Airfix 1:72 Handley Page Victor
K.2 steps into the spotlight.
P44 IN DETAIL…
To go with our preview of the new Airfix kit and a
full build next month, Glenn Sands takes a look at
the F-4 Phantom FGR.2 in RAF Service.
P48 KIT PREVIEW
Mike Williams takes an initial look at Airfix' brand new
1:72 F-4 Phantom FGR.2.
P50 IT'S A ROCKET, MAN!
Mike Williams indulges in a weekend build as he
paints and assembles Revell's 1:72 V-2.
P56 YELLOW 15
Eduard's excellent Emil, becomes Karl Wolff's illfated
mount…
P64 TOP GUN TRAINER
Mike Williams uses Bright plumage to decorate
Eduard's 1:48 L-29 Delfi n.
P72 ONE WE MADE EARLIER…
For those that missed it, the editor offers another
look at his rendition of AMK's 1:48 L-29 Delfin