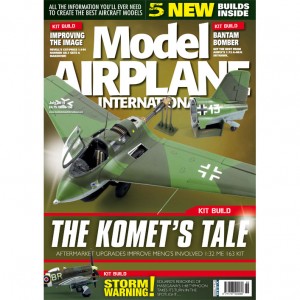 REVIEWS
P14 KIT BOX
Which models will you be building over the coming
months?
P18 IN PRINT
Modelling books that help you build better models!
P20 IT'S SHOWTIME
Top models on show at Tangmere
P24 ONE, ONE, FOUR FOUR NEWS
All that's new for fans of this increasingly
popular scale.
FEATURES
P26 IMPROVING THE IMAGE…
Scratchbuilt details make Revell's 1:144 Harrier
GR.7/9 a more accurate replica – at least. that's
what the editor thinks!
P32 IN DETAIL: HARRIER GR.9A
Close-up images of Yeovilton's 'Dirty Harry', a
battle-weary aircraft' in original condition.
P36 BANTAM BOMBER
Airfix's 1:72 A-4B Skyhawk is a very fine kit and
in the hands of almost everyone, can be turned
into a very fine miniature of this famous aircraft.
The Editor gets to grips with the kit, finishing it in
Argentinian colours along the way…
P44 STORM WARNING
We've taken a look at the Eduard Tempest in this
magazine over the last few months so it's only fair
that we also look at their Typhoon. Alan Price sits in
the author's chair…
P54 THE SPITFIRE THAT WENT
TO SEA
Jamie Haggo completes his series of features
detailing the use of the Seafi re by the Fleet Air Arm.
This month he builds the Airfi x 1:48 Seafi re 47.
P64 THE KOMET'S TALE
James Hatch build's MENG's involved 1:32 Me163
– step by step.
P74 IN DETAIL:
MESSERSCHMITT ME163 KOMET
Cosford's stunning restoration reveals some of its
secrets…
REGULARS
P04 – IN THIS ISSUE
P06 – COMMENT
P08 – NEWSLINE
P78 – EVENTS DIARY
P79 – CONTACTS DETAILS
P81 – NEXT ISSUE
P82 – FINAL THOUGHTS…