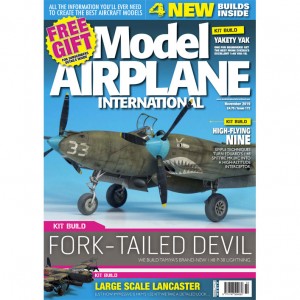 REGULARS
P04 – IN THIS ISSUE
P06 – COMMENT
P08 – NEWSLINE
P78 – EVENTS DIARY
P79 – CONTACT DETAILS
P81 – NEXT ISSUE
P82 – FINAL THOUGHTS…
REVIEWS
P12 KIT BOX
Which models will you be building over the
coming months?
P18 Transfer List
Which decals will you chose to build something
just a little different?
P26 ONE, ONE, FOUR FOUR NEWS
All that's new for fans of this increasingly
popular scale.
P54 KIT PREVIEW
Spencer Pollard takes an in-depth look at
HKM's 1:32 Lancaster, ready for John Wilkes'
detailed build.
FEATURES
P22 IT'S SHOWTIME!
Old Sarum opens its doors, to reveal its secrets.
P28 YAKETY YAK!
Russell Mardling builds Zvezda's 1:48 Yak-1B.
P34 FORK-TAILED DEVIL
Well, it's here – Tamiya's latest 1:48 kit, the
beautiful P-38 Lightning. Spencer Pollard, takes
a detailed look at an early sample, to bring you a
specially extended review.
P46 …IT GIVES YOU WINGS!
Alan Firbank photographs Red Bull's stunning
P-38 Lightning.
P48 HIGH-FLYING NINE
Jason Brewer turns Eduard's Spitfi re Mk.IXc into a
high-altitude interceptor.
P58 LARGE SCALE LANCASTER
John Wilkes builds HKM's incredible, 1:32 kit.
P70 IN COLOUR
Alan Firbank captures the BBMF's Lancaster in all
of its wonderful glory!
P72 RETRO HIGHLIGHTS…
AND HARRIERS!
Glenn Sands visits RNAS Yeovilton for this year's
international air show.