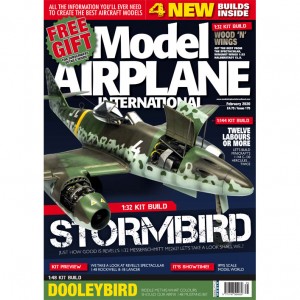 REGULARS
P04 – IN THIS ISSUE
P06 – COMMENT
P08 – NEWSLINE
P78 – EVENTS DIARY
P79 – CONTACT DETAILS
P81 – NEXT ISSUE
P82 – FINAL THOUGHTS…
REVIEWS
P12 KIT BOX
Which models will you be building over the coming
months?
P18 THE AFTERMARKET
Add-on details that will improve your next build.
P20 TRANSFER LIST
Choices, choices – which decals will you chose to
build something different?
P24 IN PRINT
New additions to your library's shelves.
FEATURES
P26 TWELVE LABOURS OR MORE
Huw Morgan builds Minicraft's 1:144 C-130
Hercules…twice.
P34 DOOLEYBIRD
Mike Williams builds the Airfix 1:48 P-51D Mustang,
finishing it in one of WWII's most controversial
colour schemes…
P42 KIT PREVIEW
We take a look at Revell's spectacular 1:48
Rockwell B-1B Lancer.
P46 STORMBIRD
Ivan Jensen Taylor builds the brand-new Revell
1:32 Messerschmitt Me262.
P56 IN DETAIL
The Editor photographs two of the world's best preserved
Me262s…
P54 WOOD 'N' WINGS
Haris Ali takes a detailed look at the spectacular,
Wingnut Wings, 1:32 Halberstadt Cl.II.
P70 IT'S SHOWTIME!
Alan Firbank brings us the highlights from this
year's IPMS Scale Model World, focussing this time
around on the club stands and new releases from
the world's kit manufacturers