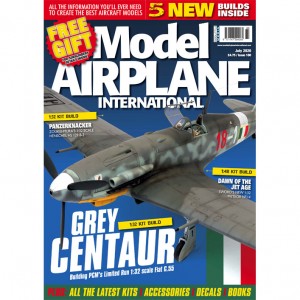 REGULARS
P04 – NEWSLINE
P06 – COMMENT
P63 – CONTACT DETAILS
P65 – NEXT ISSUE
P66 – FINAL THOUGHTS…
REVIEWS
p.8 IN PRINT
What books will inspire you this month?
p.10 TRANSFER LIST
Choices, choices – which decals will you chose to
build something different?
p.24 THE WILDEST CAT
The Editor checks out Arma Hobby's brand new
1:72 scale FM-1 Wildcat.
FEATURES
p.12 DAWN OF THE JET AGE
Piotr Slominski builds Sword's 1:48 scale Meteor
NF.14 Night Fighter.
P 26 PERRY PLANE
FineMolds 1:48 Kawasaki Ki-10 II Type 95 fi ghter
"Perry" by Mike Williams
p.32 GREY CENTAUR
Brett Green tackles Pacifi c Coast Models' limited
run 1:32 scale Fiat G.55 Serie 1 Centauro.
p.24 EXPEDIENT SOLUTION
Huw Morgan presents his Trumpeter 1:48 MiG-3
p.54 PANZER KNACKER PT. 3
In Part Three, Nigel Poole paints and fi nishes his
Zoukei-Mura's 1:32 scale Henschel Hs 129 B-2.