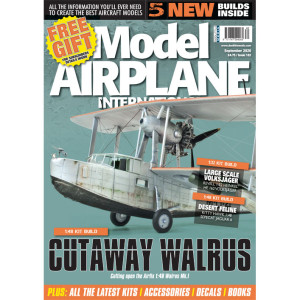 Subscriber copies mailing this week
REGULARS
P04 – NEWSLINE
P06 – COMMENT
P65 – NEXT ISSUE
P66 – FINAL THOUGHTS…
REVIEWS
P.10 IN PRINT
What books will inspire you this month?
P.12 TRANSFER LIST
Choices, choices – which decals will you chose to
build something different?
FEATURES
P.14 CUTAWAY WALRUS
Mike Williams displays the interior detail in the
Airfix 1:48 scale Supermarine Walrus Mk.I..
P.24 BATTLE OF BRITAIN HURRICANES
Alan Price builds two Airfi x Battle of Britain 1:48
scale Hurricane Mk.Is.
P.30 HEINKEL HE 162 CLOSE-UP
Two Heinkel He 162s in the Canadian Aviation and
Space Museum, and the Planes of Fame Museum in
Chino California.
P.34 LARGE SCALE VOLKSJÄGER
Brett Green adds after-market detail to Revell's
1:32 scale Heinkel He 162 Volksjäger.
P.46 DESERT FELINE
Kamil Feliks Sztarbala builds Kitty Hawk's 1:48
scale French Sepecat Jaguar A.
P.56 KICKING THE KIKKA
Chris Wauchop reconditions a Fine Molds 1:48
scale Kikka.