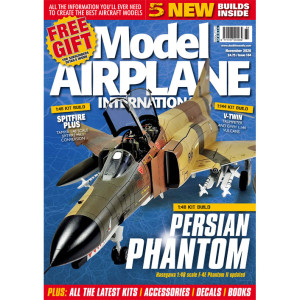 REGULARS
P04 – NEWSLINE
P06 – COMMENT
P65 – NEXT ISSUE
P66 – FINAL THOUGHTS…
REVIEWS
P.8 TRANSFER LIST
Choices, choices – which decals will you chose to
build something different?
P.12 IN PRINT
What books will inspire you this month?
FEATURES
P.16 A STING IN THE TAIL PART TWO
Brett Green paints and weathers Meng's 1:48 scale
Messerschmitt Me 410 B-2/U4.
P.26 V-TWIN
Huw Evans builds two 1:144 scale Vulcans – Great
Wall Hobby and Trumpeter.
P.36 SPITFIRE PLUS
Jeremy Moore undertakes a simple conversion of
the Tamiya 1:48 scale Spitfire Mk.I to a Mk.IIa.
P.46 PERSIAN PHANTOM
Alirezi Beigi updates Hasegawa's venerable 1:48
scale F-4E Phantom II and finishes the model in
Iranian colours..
P.56 FABULOUS FRESCO
Mike Williams builds the recent Airfix 1:72 Mikoyan-
Gurevich MiG-17F 'FRESCO' almost straight from
the box.