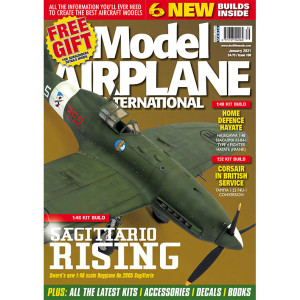 REGULARS
P04 – NEWSLINE
P06 – COMMENT
P65 – NEXT ISSUE
P66 – FINAL THOUGHTS…
REVIEWS
p.8 TRANSFER LIST
Choices, choices – which decals will you chose to
build something different?
p.9 IN PRINT
What books will inspire you this month?
FEATURES
P.10 KIT PREVIEW
Eduard 1:32 Eduard Adlerangriff
P.12 SAGITTARIUS RISING
Brett Green builds Sword's recent 1:48 scale
Reggiane Re.2005 Sagittario.
P.24 HOME DEFENCE HAYATE
Jason Brewer upgrades Hasegawa's 1:48 scale
Ki-84 Hayate "Frank"..
P.32 BUILDING AN IRANIAN MIG-29A
Alirezi Beigi finishes the 1993-vintage Academy
1:48 scale MiG-29A in an attractive Iranian scheme.
P.40 DESERT APACHE
Rafał Lebioda details-up the simple Hobby Boss
1:72 scale AH-64D Long Bow Apache.
P.48 KIT PREVIEW
Zoukei-Mura 1:48 F-4EJ Kai Phantom II
P.50 DARK DEFENDER
Mike Williams tackles Special Hobby's new 1:72
scale Armstrong Whitworth Meteor NF.12, and uses
a few after-market accessories.
P.58 BLAST FROM THE PAST –
CORSAIR IN BRITISH SERVICE
The Editor converts Tamiya's magnificent 1:32 scale
F4U-1 Corsair.