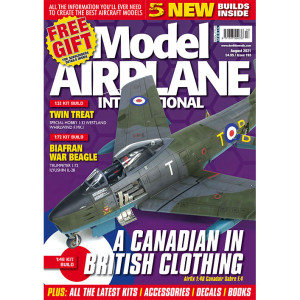 REGULARS
P04 – NEWSLINE
P06 – COMMENT
P65 – NEXT ISSUE
P66 – FINAL THOUGHTS…
REVIEWS
P.8 IN PRINT
What books will inspire you this month?
P.12 TRANSFER LIST
Choices, choices – which decals will you chose to
build something different?
FEATURES
P.14 WHIRLWIND DEVELOPMENT
AND IN SERVICE
Full size reference
P.20 TWIN TREAT PART ONE   
BASIC CONSTRUCTION
Brett Green builds Special Hobby's new 1:32 scale
Westland Whirlwind F. Mk.I
P.34 A CANADIAN IN BRITISH
CLOTHING
Airfix 1:48 scale Sabre F.4 by Spencer Pollard.
P.46 BIAFRAN WAR BEAGLE
Huw Morgan presents his Trumpeter 1:72 scale
Ilyushin IL-28 Beagle.
P.54 PREVIEW
GasPatch 1:48 Messerschmitt Me 163 B Komet.
P.56 PEGASUS RISING
Jason Brewer builds his fi Eduard 1:48 scale
Spitfire as an Australian Mk.VIII.
P.60 FULL-SIZED MESSERSCHMITT
BF 109 G RUDDER
Maurizio Di Terlizzi builds a full-sized
Messerschmitt Bf 109 rudder from scratch.