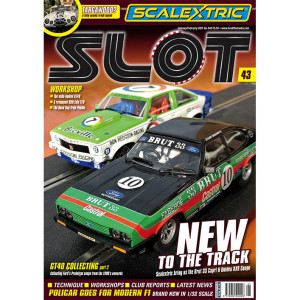 8 Reader's Rides
This is our regular look at what you
have been up to. Why don't you –
Show Us Yours!
10 Splash it on all over,
eh 'Enry ?
For too long Ford Capri fans have
had to wait for a non Cologne or
Zakpeed arched version as a slot
car – Scalextric have come to the
rescue!
16 Tracks that never
leave home
Ever wanted to build a scenic layout
but cant decide what to build?
Well Graham Taylor combined two
different iconic locations on his
wonderful track.
22 Collecting the GT40 – Part 2
Perhaps the most modelled slot car
of all time? We look here at what
has been offer since the turn of the
Millennium in part 2 of our collecting
the GT40 feature.
30 FILLING A GAP IN HISTORY!
One GT40 you won't see in the
previous article will be this one-off,
extra wide-bodied version. Terry
plugs that gap using a Fly model
of the car as the basis of this
conversion.
34 The Green Monster
of Champagne Mouton
The French Grand Prix? Well not
quite, but observing the lockdown
measures the Confolens Classic in
France was one of the few major slot
events to go ahead in 2020. Our own
Richard Hills reports.
42 A revamped barn find
K&B Lola T70
We welcome on board Canadian
Chris Walker as our latest
contributor. Here Chris builds and
modifies a 55-year-old K&B kit.
46 Double Trouble
Here we look at two new toolings
from Scalextric. Both models
featured are based on cars seen
racing in current GT3 and GT4
series. The Ford Mustang and the
Aston Martin Vantange.
52 The Scalextric Torana
goes Coupe
Like your coupes a little older?
Scalextric also give you another new
model, in the shape of the Holden
A9X Torana Coupe.
56 Three wheels on my wagon
In move to attract younger buyers to
their three wheelers in 1970 Reliant
released the Bond Bug. Pendleslot
decided on the cars 50th anniversary
it was time for a slot car version!
60 POLICAR GOES FOR MODERN F1
After some years and many
wonderful classic F1 slot car later
Policar have gone modern. Looking
like any of the modern day Grand
Prix grid the company gives you the
Monoposto.