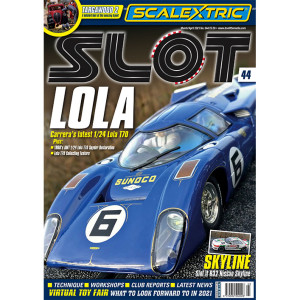 4 NEWS & NEW PRODUCTS
What is happening in the
Slot magazine world. News,
announcements, and interesting slot
gossip. Plus see the new cars that
are in the shops since the last issue
of Slot magazine. We look at brand
new models coming your way.
65 SLOT DIRECTORY
Find the retailers and specialist
services you need for all your slot
racing shopping.
66 PASSING SHOT
Where did it all begin?
10 Toy Fair?
What does 2021 have in store for
the slot enthusiast for this coming
12 months? Take a peek with our
preview from some of what the top
manufactures have planned for us.
20 Collecting Lola T70's
Mirroring the popularity in the rise
of slot car racing and the real cars
introduction, the T70 had many
incarnations, both in the 1960's and
to the current day. We explore.
30 Reach for the Sky-Line part 2
Hot on the reels of the R30 Nissan
Skyline from Sideways, we now get
the popular R32 version from Slot.it.
We look at this model that is grouped
in with their DTM cars.
34 Track cutting
What to do if your latest masterpiece
of a circuit design does not quite line
up no matter what you try. We get
out the chainsaw and blowtorch!
36 Targawood 2
In this article we look how Graham
Taylor's created his part Sussex, part
Sicilian scenic layout. Graham tells
the story in his own words.
42 Ballast
I described attaching ballast weights
to a slot car as a "Black art". Our
Canadian correspondent Chris
Walker put me in my place, stating
there's nothing black about it, it is
pure science.
46 I am Legend
The little Legends cars have become
a crowd favourite both here and
across the world. We build the
Penelope Pitlane 1/32nd model from
Pendleslot, great fun it is too!
52 Large Lola
This is the latest 1/24th Scale model
from Carrera. At risk of turning this
issue into a T70 tribute we bring you
the rather huge Lola T70 MkIIIB from
the 1969 Daytona 24 Hours.
58 Lashups!
This is Mark Hatton's description not
ours! Mark is usually flying around
the globe due to his job but being
grounded he finds himself at home
for much longer periods of time. Time
to devote to slot cars!
62 Sublime Lola
As a parting shot to our impromptu Lola
T70 issue we bring you this masterpiece!
A fabulous rebuild of a classic 1960's
AMT model, by Chris Walker.