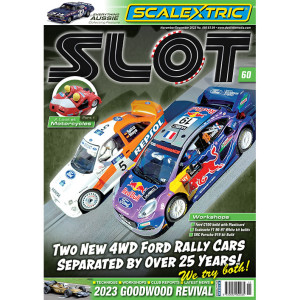 8 EVERYTHING AUSSIE
We take a look at what Scalextric have produced
over the last 60 years for the markets in Australia
and New Zealand.
18 REVIEW – CLASSIC WRC FORD
Scalextric revisit the Escort Cosworth with this 1997
Carlos Sainz Repsol WRC car. Complete with Four
Wheel Drive. And very nice it is too!
22 WORKSHOP – A BETTA IDEA!
We build a forgotten Le Mans challenger from Ford –
the C100, mostly from Plasticard!
28 REVIEW – STRANGE FANS AND DUSTBIN LIDS!
We look at the limited-edition Legends Formula 1
set featuring a very unusual car. Plus a single less
radical version of it!
32 MOTORBIKES PART 1
After my look at slot Go-Karts in the last issue,
this time I take a look at Motorcycles. Part 1 – we
investigate sidecar combinations.
36 REVIEW – SCALE AUTO FORMULA 90-97
In issue 56 we reviewed the Formula 90-97 generic
F1 car from Scale Auto. That was in a plain
colour – here we look at a fully decorated
version finished in a well-known and muchloved
livery.
38 WORKSHOP – SCALEAUTO F1 90-97 WHITE KIT BUILDS
Regular contributor Mark Hatton shows us not one
but two builds, based on the Scale Auto 90-97 kits –
both low and high nosed.
44 REVIEW – SCALEXTRIC DAYTONA FERRARI SET
Ford were not the only ones to stage a 1-2-3 finish at
the end of a major 24 hour sports car race. Scalextric
release a special set to celebrate what happened at
Daytona in 1967.
48 WORKSHOP – SRC 919 BUILD
Ray Lego from the NJ Metro wanted to build a new
SRC Porsche 919 kit but didn't want to spend a
week doing it. Here he shows us how he put this kit
together in just over his target time of 36 hours!
52 REVIEW – SCX PUMA
A new release from the iconic Spanish brand SCX is
always welcome news. Here we have their take on
the Ford Puma WRC car – worth the wait!
56 GOODWOOD REVIVAL
The Goodwood Revival is always a wonderful even
to attend and 2023 was no exception. There, as
always, you will find many cars that have been
covered as slot cars or are to be released soon.
62 TALES FROM DOWN UNDER
In our regular series from Neil Owen from Adelaide,
he talks us through what happened after the demise
of the commercial tracks in Australia – as he
continues his "Tales from Down Under".