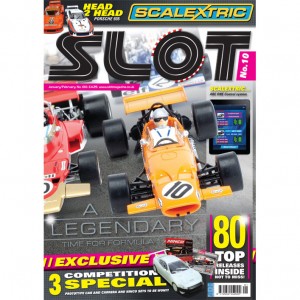 Issue 10 contents:
REGULARS
4 NEWS
What is happening in the SLOT magazine world. News, announcements, and interesting slot gossip. See our previous prize winners before you enter the fabulous competitions in this issue.
9 SLOT CALENDAR
IIf you want to race or have a look around a Swapmeet, there is probably an event you won't want to miss. Send your event details if you want to be included.
10 PITLANE NEW PRODUCTS
See the new cars that are in the shops since the last issue of SLOT magazine. Including a review of the new Mclaren M7C
EXCLUSIVE
22 COMPETITION 1
EXCLUSIVE ! We have a very special competition for a unique prototype car donated by the Scalextric design
department. Free to enter but have you subscribed to SLOT magazine?
31 COMPETITION 2
Free competition to win a fabulous Carrera set with the latest Formula 1 cars. We look closely at the cars in our new product review.
37 COMPETITION 3
Free competition to win a big Ninco set with the new Seat Leon cars. We reviewed these in the last issue, they
are fast!
64 CLUB FOCUS
There is a club in Melton Mowbray that has a big 4-lane track and a lot of Slot Rally Special Stages. Club night racing and rallying are regular features if you live nearby.
65 SLOT DIRECTORY
Find the retailers and specialist services you need for all your slot racing shopping.
66 FINISH LINE
Richard Hills goes without sleep and tests his eyesight to try racing something different. Apparently small
is beautiful if it's a record breaker.
FEATURES
18 HEAD TO HEAD
The mighty Porsche 935 has won races on every track you can think of, including slot tracks. Two new models
keep the legend alive and we help you decide which would be the one to choose would we have them both if
we could.
24 SCALEXTRIC ARC
Slot racing controlled from a tablet or mobile phone? A traditional hobby meets modern technology in the new Scalextric system, we find out how easy it is and how much you can do with it.
32 SLOT RACING IN NEW ZEALAND
Our look at slot racing around the world takes us to the most southerly hotbed of industry. Wonderful scenery, laid back lifestyle, and plenty of slot racing, what else could you wish for?
58 HOW SCALEXTRIC PRODUCE SLOT CARS PART 3
Going behind the scenes with a major manufacturer is a journey into technology, big business, and a little
bit of magic. We finish our exclusive report by looking at the track and sets, and that wonderful artwork in the catalogue and set boxes.
WORKSHOPS
44 FUTURISTIC CAR TRANSPORTER
Could you take a huge futuristic kit and turn it into a working slot model with a difference? Tony Davey is the man with imagination and skill, and obviously a very big track.
52 LAPTOP COUNTER & TIMER
What would you do with that old laptop or PC that just isn't good enough to run the latest software? Answer turn it into a slot racing lap counter and timer, and for just a couple of Pounds.
RACE REPORTS & EVENTS
28 ROUND BRITAIN WHIZ
Reviving the 1960s Thingies and then letting others drive them in countries around the world. See what happened when retro styling came to Britain and we take a trip into the world of imagination and raceways.
38 SLOT RALLY GB
It officially ended in the Wye Valley in November. Gareth Jex reports on his years at the helm of SRGB, the 2014 Champions, and how SlotRallyUK will be driving ahead (and probably sideways) next year.
42 HEART OF ENGLAND
How did the HoE Improved cars work out this year? Graham Pritchard guides us through the options in this
classic budget style of racing, and sees who developed the best cars under the new rules.
48 DISCA EINDHOVEN
Slot.it. Oxigen digital system, 3D printed chassis, DTM support races, then 12 International teams driving
1000 laps around Suzuka ? What's it all about?