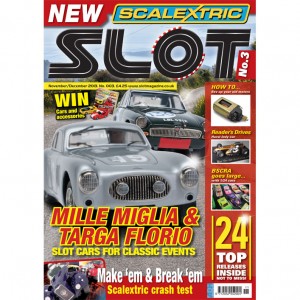 Issue 3 contents:
REGULARS
NEWS – What is happening in the SLOT magazine world. News, announcements, and interesting slot gossip.
PITLANE NEW PRODUCTS – We have the latest releases, and its not only cars on the way or in the shops already. Accessories, materials and equipment that will be useful for you, plus pictures of all the new cars you can find in the shops.
HEAD TO HEAD – Having trouble choosing between 2 or more similar cars ? We let you know the good and bad about each one. This time we put the Ford Escort RS1800 under scrutiny.
CLUB FOCUS – In this issue we visit Netley near the Sussex coast to see how a club has rebuilt itself into new premises. They race all types of cars on a challenging but very smooth track, and have recently hosted a classic meeting, a Southern 32 round, and run a full program of clubnights.
PAST FORWARD – OUR SLOT HISTORY PAGES – With slot car racing having more than 60 years of history, we take a look back at some of the cars, drivers, and notable events of the past. This time we examine a typical 1960s American commercial race car.
READERS DRIVES – There are some winning cars that deserve to be shared. It may be a concours winner, or first home in a 24 Hours race, or been thrashed all year to win a championship. We look at the best slot cars around and ask the drivers and builders to share their secrets.
SLOT CALENDAR – If you want to race or have a look around a Swapmeet, there is probably an event you won't want to miss. Send your event details if you want to be included.
FINISH LINE – Richard Hills tried NSR cars and 24 Hours racing for the first time – how did he get on?
FEATURES
CARRERA SPORTS CARS ON TEST – Carrera make glossy detailed cars that are priced below every other brand, so is buying a Carrera car a bargain? We test a classic Cheetah and a modern Ferrari 458 to find out what you get and how well they perform.
SCALEXTRIC DEMOLITION DERBY SET ON TEST – Released to great acclaim in the summer, the latest venture from Scalextric is a big hit with the youngsters. Build your cars and then destroy them with spectacular crashes – there is a bit of the child in all of us!
SLOT CLASSICS DESIREABLE REPLICAS – Superbly detailed replicas of classic sports cars are Slot Classic's speciality. We look below the high-gloss finish to examine the latest Limited Edition releases from this Spanish company, and give you a peep at what we found.
OFFICIALLY AUTHORISED BODYSHELLS – Way back in the 1960s slot racing had it's first taste of licencing. Grand Prix teams decided there were a lot of vacform bodyshells being sold to slot racers, and they wanted a piece of the action.
BOOK REVIEW – Sometimes we all want to sit quietly and read about our favourite hobby, or we need a good reference book to look up cars, accessories, and history. We recommend the Fly book to do all of these and you can see why in our review.
MAX-ON ARRESTOR – ELIMINATE CRASHES? Here is a handy little device you can fit to any slot car that will stop you crashing out of corners by going too fast. Find out more – and win a pair in our simple competition.
NINCO WIRELESS CONTROLLERS – If you want to drive your car from anywhere around the track you should try a wireless controller system. Nic Hirst examines the new Ninco controllers and shows how they can be adapted to any track.
WORKSHOPS
BUILD A CUSTOM PIT BOX – Matt Boland needed the perfect box to carry his cars and equipment to races. He couldn't buy what he wanted so he built his own and shows you how it can be done to fit in everything you need for a competitive days racing.
SCENIC TRACK BUILD part 2 – Dave Jessett works out how the track will fit on the baseboards by planning the scenery and driving positions, then gets the hills, wiring and bridge into place.
SLOT STOX – BUILD YOUR OWN WOMP – The WompStox cars are based around the Parma Womp chassis. Simple, cheap, and tough enough to survive the hard knocks of racing on a tight oval track, we look at 2 ways of putting a strong car together.
MOTOR STRIPDOWN AND TUNING – How to look after all those old Scalextric motors and their bigger brothers. Keep them running reliably and make them faster with our step-by-step guide.
RACE REPORTS & CLUB NEWS
BSCRA 1/24 SCALE NEWS – It doesn't have to be expensive but it is very fast. Find out how to get around a 100ft track in around 3 seconds.
SLOT RALLY GB – The 2013 Championship is hotting up, one class has been won already by a top racer who puts older drivers in the shade. Gareth Jex reports from rounds 7 and 8.
HEART OF ENGLAND CLASSIC F1 RACING – The huge 6-lane Ninco track at Great Barr was hugely popular with the drivers. With more entries and more cars it was a challenge to succeed on the fast straights and dips of this scenic circuit.
BSCRA RACING ROUNDUP – We have reports from the Southern 32 round at Netley, the Falcon Pro series at Blackpool, and a historic fun day at Ipswich. The BSCRA is active all over the country as you can read here.