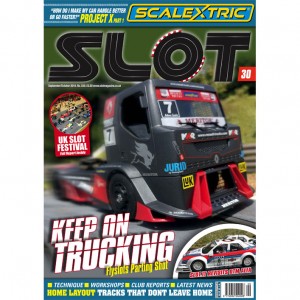 8 The 2018 UK Slot Festival
The UK Slot festival has become a
must do event on most slot enthusiasts
calendar and draws people both
participating and attending from all over
the world. Full report inside…
24 Formula 1 pit walls
Contributor Mark Hatton shows you this
month his handy-work in the pitlane
using mainly products from Slot Track
Scenics and tell us how he used them
to create a now common feature of the
real F1 pit wall
30 workshop – project X part 1
"How do I make my car handle better
or go faster?" is a question often asked,
and not only by newbies. In this twopart
feature we take a typical Scalextric
car and see how far we can take it
36 rally track FEATURE
First seen at last years Slot Festival
this rally circuit back then was still
under construction, and while the few
buildings on it were wonderful, I don't
think anyone was ready for what they
saw at this year's show
42 Flyslot Renault MKR race
truck Review
Flyslot's swansong new release is the
long-awaited Renault MKR race truck.
So what's it like and what is in the future
for the pioneering Spanish slot brand?
46 Home circuit feature
Russell Stevens describes
his home track and his life
long passion for slot car
racing
52 past forward
Wrenn of Basildon
decided that during
the early days
of home set slot
racing, going smaller
was the answer and
produced their system
in 1/52 scale
56 Alfa 155 V6Ti Triple Test
Three Alfa Romeo 155's from the
same manufacturer!