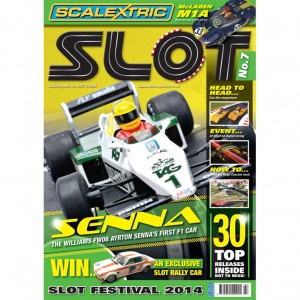 Issue 7 contents:
REGULARS
4 NEWS
What is happening in the SLOT magazine world. News, announcements, and interesting slot gossip.
6 PITLANE NEW PRODUCTS
See the new cars that are in the shops since the last issue of SLOT magazine.
42 CLUB FOCUS
We get the details of one of the oldest slot racing clubs in the UK. Haydon is an active club that has
produced several national racing champions so they know a thing or two about racing.
52 PAST FORWARD – OUR SLOT HISTORY PAGES
With slot car racing having more than 60 years of history, we take a look back at some of the cars, drivers, and notable events of the past. Slot car kits are nothing new, Scalextric have tried them three
times but did they succeed?
58 HEAD TO HEAD
Having trouble choosing between two or more similar cars? We let you know the good and bad about each one. A Can-Am favourite has been made by two manufacturers but they turn out to be quite different, you can find out how and why and see which one would suit you best.
63 SLOT DIRECTORY
Find the retailers and specialist services you need for all your slot racing needs.
64 SLOT CALENDAR
If you want to race or have a look around a Swapmeet, there is probably an event you won't want to miss. Send your event details if you want to be included.
66 FINISH LINE
Richard Hills shares his thoughts and experiences on a range of slot topics. Is Richard in his Golden Years or is it just slot car racing?
FEATURES
16 COMPETITION – WIN AN EXCLUSIVE SLOT RALLY CAR
Enter our Free Competition and you could be the lucky winner of a very exclusive Slot Rally car. We like the Slot Rally GB series even more now thanks to Gareth Jex of SRGB and Pendle Slot Racing.
26 UKRRA RETRO RACEWAY
Racing with a historical flavour as the fastest cars of the 1960s (and some of the drivers as well) are recreated
for a high speed fun event. Classic slot car racing is as popular as the real thing but the cars are much smaller (and cheaper).
30 UK SLOT CAR FESTIVAL 2014
The annual event got even bigger this year and took a whole weekend to see what's happening in the slot car world. Follow us around and see some of what you missed if you couldn't get to Gaydon.
50 SENNA WILLIAMS FW08
The first car in a magical series including every Grand Prix car that Ayrton Senna ever drove has arrived on the 20th anniversary of that fateful day at Imola. It's a new car to the slot racing world so we just had to have a close look.
WORKSHOPS
10 MSRA SLOT STOX CHASSIS
How hard is it to build a car that can push others out of the way, take a few trips to the floor, and still keep winning? The Midlands Slot Stox guys show us some of the secrets of combining brute force and speed with a little skill and a soldering iron.
18 BUILDING AND RACING A RESIN CAR KIT
Almost every car that isn't made by a major manufacturer is available from one of the specialist resin kit suppliers. Don't think they are slow or delicate – we show you how to build one with a laser-cut steel chassis and compete in one of the many events for classic cars.
44 TARGA CASCATA PART 2
The star track at Slot Festival 2013 and 2014, Kevin Rees describes how he built the village. It got the seal of approval from Mr. Slot.it himself Maurizio Ferrari, so Part 2 should be essential reading for you.
RACE REPORTS & CLUB NEWS
14 SLOT RALLY GB
Competition is hotting up as the rally crews compete in the miniature versions of the Cumbrian and Manx Rallies.
New special stages, new cars, and new winners, so Gareth Jex washes off the mud to report from the forests and tarmac for you.
38 OXIGEN DIGITAL LE MANS 24 HOURS
14 teams racing for 24 hours on an accurate replica of the Le Mans track? This is digital technology pushed to the limit with cars built to stand the pace through the night to set new records using the Slot.it
oXigen system.