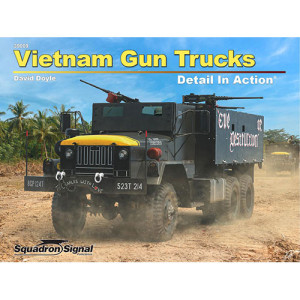 Squadron Signal Publications is proud to present its first new vehicle book release from the new Georgia Squadron location. The Vietnam Gun Trucks "Detail In Action" includes all the best parts from the "In Action" and the "Walk Around" series combined into one book! PLUS, this book features 144 pages! This book is written by author David Doyle. Cover artwork is done by Antonis Karidis.
Detail In Action books trace the development of a single type of aircraft, armoured vehicle, or ship from prototype to use. The equipment is shown in action and then specific closeup details of important sections of the equipment are explained. Experimental or "one-off" variants can also be included. Our first In Action book was printed in 1971. Squadron/Signal books feature the best surviving and restored historic aircraft and vehicles. Inevitably, the requirements of preservation, restoration, exhibit, and continued use may affect these examples in some details of paint and equipment.
About the Author: David Doyle's earliest published works appeared in periodicals aimed at the historic military vehicle restoration hobby. By 1999 this included regular features in leading hobby publications, appearing regularly in US, English and Polish magazines. Soon, this expanded to publications aimed at scale model enthusiasts as well. In 2003 his first book was published, and since that time has written more than 200 additional titles, with aviation and nautical topics joining his initial efforts concerning vehicles. He and his wife Denise live in west Tennessee.