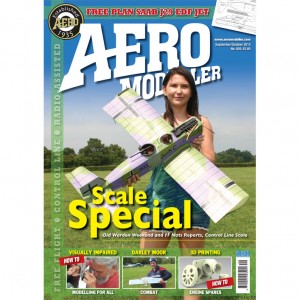 AeroModeller issue 011 (929) Sept/Oct 2014 (Published August 21st)
Heard at the Hangar Doors
Editorial and News from across the Globe
Up and Coming
Calendar of Events for the next months, including Peterborough Flying Aces.
Off the Shelf
A look at new and innovative products.
Old Warden Scale Weekend
Report on this popular Scale event, with the odd Vintage and Sports model thrown in!
3D Printing of Engine Spares
Hans J van Tol shows how he went about creating an ED 2.46 backplate. Includes a special offer for AeroModeller readers using Shapeways 3D printing services.
The PANDAs Single Channel and Retro Fly-in
The 3rd event is the busiest yet with a focus on the designs of Phil Smith.
Aeromodelling for the Visually Impaired
Stuart Darmon explains how his macular degeneration hasn't stopped him modelling.
UKAYRoC Youth Rocket Finals
Young rocketeers battle it out at the Charterhouse finals to represent UK in the International event. Report by Stuart Lodge.
Power Trip
Maris Dislers visits the Enya engine factory in Japan, and with Adrian Duncan's help looks at V2 of the CS Tiger Twin diesel.
West Wings and Deluxe Materials Review
Steve Woods does a build review of the West Wings Beguine electric trainer using a selection of Deluxe Materials products.
Darley Moor Combat
The Vintage and Oliver combat contests on 24-25 May reported by Mick Lewis and Simon Groom.
FREE PLAN – SAAB J29 Tunnan EDF
Full size plan for this foam, depron and balsa Electric Ducted Fan scale jet by Steve Glass.
Prop Design by Rule of Thumb
Stuart 'Supercool' gives a guide to designing competitive i.c. power props for F1, F2 and even F3.
Vintage Coupe d'Hiver
An introduction, by David Beales, to this FF competition flying which will get you outside in the cooler months.
Aero Post
Readers letters by post and email.
Electric Powered Control Line
Part 3 of Switching To Electric Power, by John Benzing.
In Scale Circles
Bernard Seale returns to consider the options for control line scale models.
Better Propellers Part 6
John O'Donnell looks beyond the prop to the rubber power.
CLAPA Championships
John Benzing reports on the leading UK control line aerobatics competition.
Scale Matters
Report on Scale at the FF Nationals by Bill Dennis.
For Old Times Sake
Don Howie's Vintage perspective from Oz.
Tail End Charlie
The thoughts of Chris Ottewell.