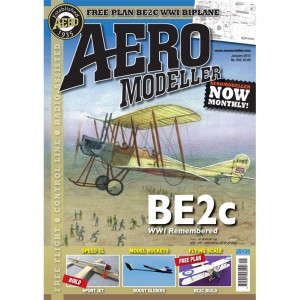 AeroModeller issue 014 (932) January 2015 (Published December 18th)
Heard at the Hangar Doors
Editorial and News from across the Globe
Topical Twists
A wry look at the world of aeromodelling, by Jeremy Paxolin
Up and Coming
Calendar of Events for the next months
Off the Shelf
A look at new and innovative products.
Aeromodeller and Aviation Artist
Profile of the painter of our BE2c cover artwork, Cedric de la Nougerede.
South Bristol Vintage CL Event
Mick Lewis looks back at this popular event for vintage Team Race, Speed and Combat.
F1A Gliders, the Quiet Revolution
The use of Flappers and other technology in the FAI FF Glider Class, by Mike Evatt.
McGillicuddy
Myth or Legend? Has the Maestro finally met his match?
Openscale 2014
The welcome return of Lubomir Koutný who reports on Scale and Old Timer in the Czech Republic.
Booster Roosters!
Stuart Lodge explains Rocket Boosted Gliders – where rocketry and traditional aeromodelling overlap.
FREE PLAN – BE2c
Andy Sephton has designed an electric powered scale model of this WWI British Reconnaissance aircraft for AeroModeller.
Power Trip
What will Maris Dislers make of an electric ARTF Cessna..?
Building a CL Sport Jet
Having shown you how to get your Pulse Jet running, Dick Hart concludes with building a suitable model.
Scale Rubber
New columnist Andy Hewitt on why and how to get in to outdoor rubber powered scale.
Gilding's Engine Auction
This popular auction of model engines always provides plenty of temptations!
U-Build Models
A kit manufacturer still producing new designs for traditional balsa kits.
Free Flight Suppliers
Where can you buy specialist FF components through to RTF duration models?
Gadget Review
Hints, Tips and Devices.
In Scale Circles
Bernard Seale on Control Line scale models.
Festival of Flight
Andrew Boddington reports from this glorious late September event at Old Warden.
Tail End Charlie
The thoughts of Chris Ottewell.