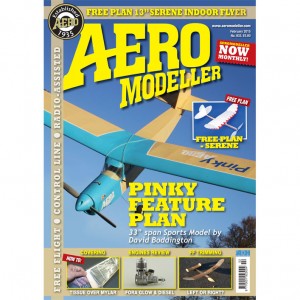 AeroModeller issue 015 (933) February 2015 (Published January 15th)
Heard at the Hangar Doors
Editorial, News and Views
Up and Coming
Calendar of Events for the next months
Off the Shelf
A look at new and innovative products.
CL Trimming for Perfection
John Benzing shows the right way to prepare your CL Aerobatic model.
Airbrush Product Review
The Neo Iwata TRN2 is put through its paces by Richard Crossley.
Aero Post
Readers' letters by post and email.
CNC Propeller Moulds
Top competition prop manufacturer Stu 'Supercool' Sherlock takes us through his computer controlled mould making process.
FEATURE PLAN – Pinky
A classic lined 33" span sports model from the pen of David Boddington. Suitable for 0.5 to 0.75cc engines, as FF or RC assist.
Covering with Tissue on Mylar
The best of both worlds with this guide to covering with Mylar followed by doped tissue.
Better… FF Trimming – Left or Right?
John O'Donnell challenges some of the orthodoxies of FF flying.
Club Indoor Flying
Your editor visits the Bournemouth MAS monthly event in Wimborne.
FREE PLAN – Serene
A foam 13" indoor rubber model for club fun-fly and competitions.
Power Trip – Fora Junior 2.5cc
Maris Dislers reviews this CL engine in both Glow and Diesel configuration.
Vintage Combat Season
Mick Lewis looks back at Vintage Combat events and the league for 2014.
Famous Control Line Kits
The Mercury range of kits are remembered by Don Howie and Ian Smith.
In Scale Circles
Some of the highlights of the CL Scale season, by Bernard Seale.
Impington VCMAC Open Day
Report from this popular indoor event near Cambridge.
A Beginner's Tale
A glider kit review by novice builder Oliver Platts.
Scale Matters
FF Scale update from Bill Dennis.
Web Walk
Mike Evatt on some of the best websites for aeromodellers.
World Cup at Salisbury Plain
The Double Bill of the Stonehenge and Equinox FF World Cup events are reported on by Mike Evatt.
Tail End Charlie
The thoughts of Chris Ottewell.