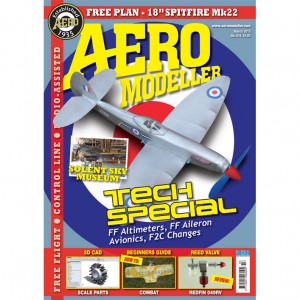 AeroModeller issue 016 (934) March 2015 (Published February 19th)
Heard at the Hangar Doors
Editorial, News and Views
Up and Coming
Calendar of Events for the next months.
Off the Shelf
A look at new and innovative products.
3D CAD for Aeromodellers
Laurence Marks on computer based 3D drawing of scale parts.
Team Racing Rule Changes
Potential changes in F2C are examined by Malcolm Ross.
From the Armchair…
A relaxed look at aerodynamics through the ages by Supercool.
Better… Rules
John O'Donnell considers the development of FF Duration rules to meet present needs.
How to get started in Combat
Mick Lewis leads you through the steps towards flying CL competitively.
Inside Indoor
The skills and science of indoor duration flying by Clive King.
Solent Sky Museum
This Southampton aviation museum has plenty to interest aeromodellers.
FREE PLAN – Spitfire Mk22
Rob Smith's delightful FF model inspired by the FROG Senior Series.
Coupe de Birmingham
Report by Martin Dilly on this late season F1G and Vintage duration contest.
Scale Rubber
Andrew Hewitt on choosing the right subject for rubber powered outdoor scale.
Power Trip – Redfin 049RV
Maris Dislers reviews this new reed valve diesel engine.
How High Did That Go?
Mike Evatt on how to use altimeters in FF models.
Rubber Motor Storage System
Dave Hipperson explains his tube storage system.
Gran Canaria CL International
European combateers grab some winter sun and competitive flying.
56 Pendulum Ailerons
Steve Glass shares his experience with mechanical and avionics based pendulum control.
Melbourne CL Grand Prix
The absence of the Aus Nats after Christmas resulted in this multi disciplined CL event.
Aero Post
Readers' letters by post and email.
Tail End Charlie
The thoughts of Chris Ottewell.
On the Cover:
The Supermarine Spitfire Mk22 Free Plan model by Rob Smith.