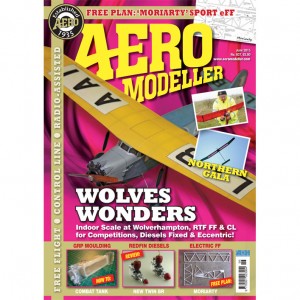 AeroModeller issue 019 (937) June 2015 (Published May 21st)
04 Heard at the Hangar Doors
Editorial, News and Views
07 Up and Coming
Calendar of Events for the next months.
08 Off the Shelf
A look at new and innovative products.
10 Why Buy and Fly FF?
Mike Evatt explains why he went the RTF route for F1B models.
14 The Yatsenko 'Gee Bee' RTF CL
Is this the model for the 21st Century CL flyer? Paul Winter walks us through his RTF CL acquisition.
18 Indoor Scale Nationals
The University of Wolverhampton was the venue for the finest flying scale modellers from the UK and Europe. Bill Dennis and Andrew Boddington report.
22 Fixed Compression and Eccentric Diesels…
Peter Scott on the history of model diesels without a compression screw.
26 The BMFA FF Northern Gala
Dave Hipperson reports from North Luffenham.
28 Power Trip – Redfin Millish & Kompish
These new twin ball race 0.5cc diesels are put through their paces by Maris Dislers.
32 FREE PLAN – Moriarty eFF
A charming 40cm span electric powered sports model by Gareth Evans.
38 Better… Power Trimming, Part 12
Dave Hipperson keeps JOD's seat warm and looks at Power duration model trimming.
42 Moulded Combat Fuel Tanks
Nick Stowe takes you step-by-step through GRP moulded tank production.
45 AeroPost
Readers' letters by post and email.
46 Indoor Duration Revival – Part 2
Hans Staartjes continues his beginner's tale of trying F1D.
48 Victorian State CL Champs
Harry Bailey reports from 'Down Under' on this qualifying event for the World CL Champs.
50 Phil Ball's Coupe d'Hiver
A profile of Phil's AeroModeller trophy 2014 winner.
53 Easter at Middle Wallop
A brief report from this excellent SAM1066 event.
54 Famous Control Line Kits
The Keil Kraft stunter range is remembered by Don Howie.
58 From the Armchair
A relaxed look at modelling and aviation ephemera through the ages by Supercool.
62 Scale Rubber
Andrew Hewitt on painting and dirtying your scale model.
66 Tail End Charlie
The thoughts of Chris Ottewell.
On the Cover:
The peanut scale Fokker FVIIa entered by Robert Pajas at the Indoor Scale Nats.