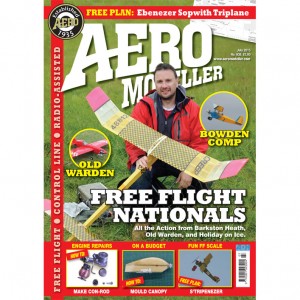 AeroModeller issue 020 (938) July 2015 (Published June 18th)
Heard at the Hangar Doors
Editorial, News and Views
Up and Coming
Calendar of Events for the next months.
Off the Shelf
A look at new and innovative products.
Free Flight Nationals 2015
John O'Donnell covers the action at this premier BMFA FF event, sponsored by AeroModeller.
The Bowden Trophy
What havoc did the Barkston winds play at this popular event? Andrew Boddington reports.
FF Nationals Results
Provisional results from the Nats weekend.
Making a Con-Rod
Allan Voyce takes you through the steps to make an engine con-rod without a lathe.
Inside Indoor, Part 4
The skills and science of indoor duration flying by Clive King.
Old Warden Mayfly
Plenty of FF and CL activity at the Shuttleworth Collection site with reports from Chris Ottewell, John Benzing and Andrew Boddington.
FAI CIAM Rules
John O'Donnell on the current state of international FF rules development.
FREE PLAN – S'Tripenezer
An Ebenezer caricature of the Sopwith Triplane for you to build. Designed by Andy Sephton.
Better… Power Trimming, Part 14
The second instalment from Dave Hipperson on Power duration model trimming.
Child's Play
Martin Pike on how he is encouraging an interest in aeromodelling in his young children.
Canopy Moulding
A cheap way of moulding canopies from old plastic pop bottles is described by Dave Cowburn.
Holiday on Ice
Flying FF from a frozen lake has its own challenges. Mike Woodhouse reports from Norway.
For Old Time's Sake
Don Howie's vintage perspective from Oz.
Walk in the Park
Pat Tritle on smaller outdoor models of all types.
From the Armchair
A look at reducing engine vibration by a laid back 'Supercool' Stuart Sherlock.
Fred Carter
Dave Smith marks the passing of this speed engine specialist.
Mike Welch's Avro York
Mike describes his 4 engine CL version of the civilian Lancaster.
Power Trip
Is the Mills 1.3 still the best choice for medium sized FF scale models? Maris Dislers investigates.