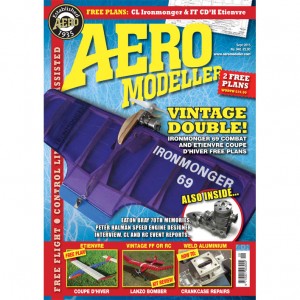 AeroModeller issue 022 (940) Sept 2015 (Published Aug 20th)
4 Heard at the Hangar Doors
Editorial, News and Views.
7 Up and Coming
Calendar of Events for the next months.
8 Kit Review Lanzo Bomber
David Toyer builds and flies Belairs laser cut
72 version of Chester Lanzos classic.
10 Understanding Adhesives " Part 1
John Bristow gets to grips with the
basics about the glues we use.
14 Power Trip " PAW 55
The small PAW 55 diesel is available in
Standard and RC versions. Maris Dislers gives it
a deserved full review.
18 PANDAs Retro RC Event
The Pontefract Clubs 4th event for
single channel and classic RC is covered by
Andrew Boddington.
20 CLAPA Champs
A report by John Benzing on the CL
Aerobatic Pilots Association annual competition.
22 FREE PLAN Etienvre
David Beales gives advice on building
and flying Michel Etienvre's 1954 Coupe
dHiver, one side of your Free Pull-Out Plan.
26 Aluminium Crankcase Repairs
Using the Techno Weld system to breath
new like in to an ED diesel, by John Johnson.
30 FREE PLAN " Ironmonger 69
Richard Evans classic design is ideal for
Oliver Combat and for beginners to Vintage
Combat. Mick Lewis takes us through the build,
the other side of your Free Pull-Out Plan.
36 Eaton Bray Memories
Modellers and visitors to Eaton
Bray Model Sportsdrome celebrate the 70th
anniversary of the start of flying at this early
National Centre.
42 The Peter Halman Interview " Part 1
Leading CL Speed Flyer and Engine
Designer for Irvine Engines talks with
Andrew Boddington.
46 Better Warps, Part 16
The Where and Why of Warps for FF
Duration, by John O'Donnell.
50 In Scale Circles
Bernard Seale on Control Line Scale.
54 South Bristol Gala
Chris Ottewell visits this multi discipline
CL competition attracting fl yers from around
the country.
56 For Old Times Sake
Don Howie's vintage perspective
from Oz.
60 UK Youth Model Rocket Finals
Which team won the UKAYRoC finals
and represented the UK at the Paris Airshow?
John Jacomb reports.