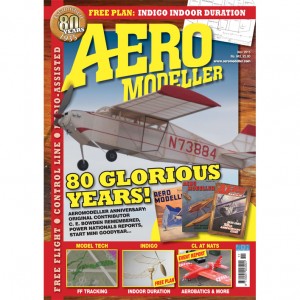 AeroModeller issue 024 (942) Nov 2015 (Published Oct 15th)
04 Heard at the Hangar Doors
Editorial, News and Views
07 Up and Coming
Calendar of Events for the next months.
08 Off the Shelf
A look at new and Innovative products.
BMFA POWER NATIONALS
10 Nats – CL Modern Speed
By Dave Smith.
12 Nats – CL Vintage & Weatherman Speed
By Tony Goodger.
14 Nats – CL Team Race
By Malcolm Ross.
16 Nats – CL Mini Goodyear
By Ben, Jane and Tim Andrews.
17 Nats – FF Scale
By Bill Dennis and Andrew Boddington.
20 Nats – CL Aerobatics
By John Copsey.
22 AeroModeller Quiz
80th anniversary quiz with the chance to win prizes.
24 C.E.B.
Peter Scott remembers his friend and pioneer aeromodeller, Claude Evelyn Bowden.
28 Power Trip – Parra T3
This 2.5cc racing diesel engine is put through its paces by Maris Dislers.
32 FREE PLAN – INDIGO
INDIGO is an indoor duration model by Clive King for those who want to take the next step in indoor rubber flying.
38 FF Tracking – GPS Locator
How modern satellite assisted technology can help you find your model. By Chris Edge and Mike Evatt.
40 Introduction to CL Team Race
Dave Hanks and Brian Lever give some hints on getting started in Mini Goodyear racing.
44 Better… Warps, Part 18
John O'Donnell continues looking at warps and considers wing structures.
46 Walk in the Park
Small model flying in the USA by Pat Tritle.
48 FF Contest in Poituo
Mike Evatt report on this international F1 contest in 'La Belle France'.
50 Timperley Gala
JOD is CD and reporter at this club run FF event closer to home.
54 Understanding Adhesives – Part 3
What makes cyanoacrylate glue super? John Bristow explains.
57 Topical Twists
A past master reappears in the guise of Jeremy Paxolin?!
58 For Old Times' Sake
Don Howie's vintage perspective from Oz.
62 Glider Wing Design – Part 2
Martyn Pressnell investigates wing aerodynamics.
64 Aeropost
A selection of your letters and emails.
66 Tail End Charlie
The thoughts of Chris Ottewell.