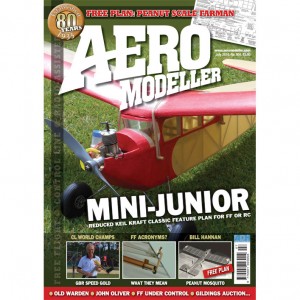 AeroModeller issue 032 (950) July 2016 (Published June 16th)
04 Heard at the Hangar Doors
Editorial, News and Views.
06 Aero Post
Readers' letters by post and email.
07 Up and Coming
Calendar of Events for the next
months.
08 Off the Shelf
A look at new and innovative
products.
Control Line World Championships
10 F2A CL Speed
With Gold Medal shining, Paul
Eisner reports from the pylon.
14 F2D CL Combat
Harry Bailey watches the world's
fi nest combateers fight it out.
18 Team Race
Prior to the World Champs, the
Vintage A team racers compete under the
eyes of Norman Kirton.
(Coverage of the Modern F2C Team Races
and F2B Aerobatics will be in the next issue.)
20 FF Acronyms Part 1
Mike Evatt sheds light on those
TLAs (Three Letter Acronyms) to do with
FF flight controls.
22 Scale Matters
Bill Dennis looks back at the Indoor
FF Scale Nationals at Wolverhampton.
27 Plan Feature – Mini-Junior
A 47" version of the ever popular KK
Junior 60 by Peter Sanders.
32 FREE PLAN – Farman Mosquito
A 13" version of this 1930s
monoplane from the king of Peanut Scale,
Bill Hannan.
38 Lubricants Part 3
John Bristow completes the series
with the development of Deluxe Materials
own lubricant.
42 From the Armchair
'Supercool' Stuart Sherlock tries
some simpler all sheet models.
46 John Oliver
An obituary for the designer of the
iconic Oliver Tiger by his friend Mick Lewis.
48 Better… Records. Part 25
Do aeromodelling records have any
relevance? John O'Donnell considers.
52 Mayfly Event
Old Warden with Ebenezers –
Spring must be here.
56 Painting the Zebra…
What will Tobe Kallner's father make
of his dalliance with modern escapement
single channel?
60 Gildings Auction
The Spring sale saw more kits than
usual. Report by Andrew Boddington.
62 FF Under Control
Jim Lueken reports on USA small
fi eld flying initiatives.
66 Tail End Charlie
The thoughts of Chris Ottewell.