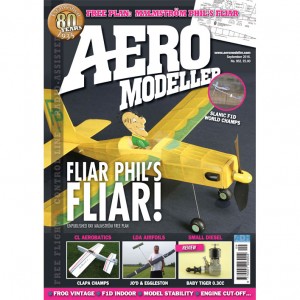 AeroModeller issue 034 (952) Sept 2016 (Published Aug 18th)
04 Heard at the Hangar Doors
Editorial, News and Views.
07 Up and Coming
Calendar of events for the next
months.
08 Off the Shelf
A look at new and innovative
products.
10 Power Trip – Baby Tiger
An even smaller capacity (0.3cc)
shrunken Tiger diesel is reviewed by
Maris Dislers.
14 CLAPA Championships
The premier UK CL aerobatics event
is covered by organiser Pete Tindal.
16 For Old Times' Sake
Don Howie's vintage perspective
from Oz looks at FROG products.
20 Lubricants Part 4
John Bristow returns to clarify the
importance of oil fl ash points.
22 Scale Matters
Progressive throttling of FF diesels
and suitable competition scale designs.
By Bill Dennis.
27 Aero Post
Readers' letters by post and email.
28 From the Armchair
'Supercool' Stuart Sherlock on Eric
Coates' classic flying scale book and FF
stability.
32 FREE PLAN – Fliar Phil's Fliar
A lost Ray Malmström rubber design
for AeroModeller is unearthed by
Bryan Gostlow.
39 FF Acronyms Part 3
Mike Evatt sheds light on more of
those TLAs to do with FF.
42 Mick Reeves – A Modelling Life
Part 2 – Mick Reeves remembers his
National Service and success with CL scale.
48 Go South Again Old Chap
Richard Evans recounts his
antipodean CL tour.
52 Indoor F1D World Champs
Part 1 – Hans Staartjes personal
reflections on the road to the Slanic.
58 In Scale Circles
Control Line scale update from
Bernard Seale.
60 Better… Together on LDA
John O'Donnell converses with Brian
Eggleston about the development of
LDA airfoils.
66 Tail End Charlie
The thoughts of Chris Ottewell.