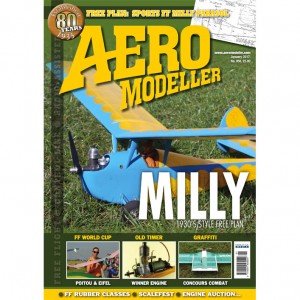 AeroModeller issue 038 (956) Jan 2017 (Published Dec 15th)
04 HEARD AT THE HANGAR DOORS
EDITORIAL, NEWS AND VIEWS.
06 UP AND COMING
CALENDAR OF EVENTS FOR THE
NEXT MONTHS.
08 INDOOR NATIONALS
THE INDOOR DURATION NATS AT THE
BRABAZON HANGAR IS COVERED
BY BOB BAILEY.
12 VINTAGE MODEL CO.
ANDREW BODDINGTON VISITS THE
FACTORY OF THIS TRADITIONAL KIT
MANUFACTURER.
14 AEROMODELLING FAMILIES
MODELLERS FROM MANY DISCIPLINES ON
THEIR FAMILY INFLUENCES.
20 IVOR F FROM DOONSIDE
TAHN STOWE'S BIOGRAPHY OF HIS MILLS
REPLICA PRODUCING FATHER.
24 FREE FLIGHT CLASSES
PART 2. MIKE EVATT CONTRASTS THE
DIFFERENT FF RUBBER CLASSES.
28 ENGINE AUCTION
THE LATEST GILDINGS SALE IS COVERED
BY NIGEL MONK.
30 FREE PLAN – MILLY PARASOL
DAVE BANKS SHARES HIS PLAN FOR THIS
DELIGHTFUL SPORTS POWER MODEL.
41 TOPICAL TWISTS
JEREMY PAXOLIN'S SIDE-WAYS VIEW
ON LIFE.
42 SPITFIRE MKXXII
PART 4. IVAN TAYLOR COMPLETES HIS
SERIES WITH RUBBER PREPARATION
AND TRIMMING.
46 FF WORLD CUP
MIKE EVATT REPORTS FROM THE FAI FF
EVENTS AT POITUO AND EIFEL POKAL.
50 GRAFFITI COMBAT
A NORTH AMERICAN TAKE ON VINTAGE
COMBAT BY ADRIAN DUNCAN.
53 AERO POST
READERS' LETTERS BY POST AND EMAIL.
54 SCALEFEST
THE POPULAR OXFORD FF SCALE EVENT IS
COVERED BY ANDREW BODDINGTON.
58 FOR OLD TIMES' SAKE
DON HOWIE'S VINTAGE PERSPECTIVE
FROM OZ.
62 FROM THE ARMCHAIR
STUART 'SUPERCOOL' SHERLOCK IS
STIRRED IN TO ACTION BY HIS
LATEST READS.
66 TAIL END CHARLIE
THE THOUGHTS OF CHRIS OTTEWELL.