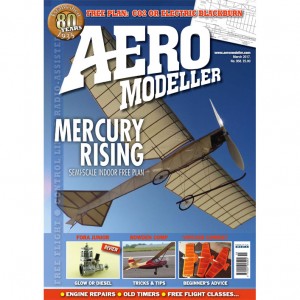 AeroModeller issue 040 (958) March 2017 (Published Feb 16th)
04 HEARD AT THE HANGAR
DOORS
EDITORIAL, NEWS AND VIEWS.
07 UP AND COMING
CALENDAR OF EVENTS FOR THE NEXT
MONTHS.
08 PRODUCT REVIEW
THE SPARMAX ARISM COMPRESSOR
IS TESTED AS A MODELLER'S SPRAY AIR SUPPLY.
12 THREAD REPAIR
ALLAN VOYCE SHOWS HOW TO
REPAIR THREADS AND RESCUE THAT DAMAGED
ENGINE.
18 SCALE MATTERS
BILL DENNIS ON FF SCALE INCLUDING
THE VMC SOPWITH CAMEL.
22 POWER TRIP – FORA JUNIOR
AVAILABLE IN GLOW AND DIESEL
VERSIONS, THE 2.5CC FORA JUNIOR IS
REVIEWED BY MARIS DISLERS.
26 BETTER… HABITS –
PREPARATION
DAVE HIPPERSON TAKES THE REINS TO
HIGHLIGHT ATTRIBUTES THAT WILL GET YOU
WINNING.
30 FREE PLAN – BLACKBURN
MERCURY
A 1911 BLACKBURN MONOPLANE FOR INDOOR
ELECTRIC OR CO2 BY MIKE WATTERS IS YOUR
FREE PLAN.
40 STARTING VINTAGE COMBAT
LOOKING TO TRY SOME CLASSIC CL
COMBAT? TIM HOBBINS EXPLAINS WHERE TO
START.
46 BOWDEN COMPETITION
SOME HINTS AND TIPS ON THE
BOWDEN TROPHY FF CONTEST FROM DAVE
LEEDING THE CD.
50 FREE FLIGHT CLASSES
PART 4. MIKE EVATT CONTRASTS
THE 'OTHER' FF DURATION CLASSES.
56 FOR OLD TIMES' SAKE
DON HOWIES' VINTAGE PERSPECTIVE
FROM OZ.
60 FROM THE ARMCHAIR
STUART 'SUPERCOOL' SHERLOCK
RAMPS UP THE SUPERCAPS.
64 AERO POST
READERS' LETTERS BY POST AND
EMAIL.
66 TAIL END CHARLIE
THE THOUGHTS OF CHRIS OTTEWELL.