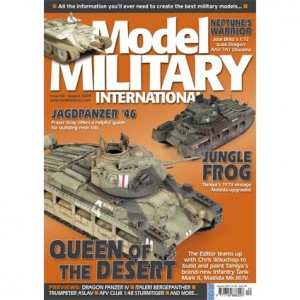 Issue 040 – August 2009
» PREVIEW
Darren Thompson examines the ample contents of Dragon's latest 1:35 version of the Panzer IV – an upgraded Ausf. D.
» THINK TANK
Paul Handel describes Australian Matilda Tank variants.
» SOMETHING OLD – JUNGLE FROG PART ONE
The Editor upgrades Tamiya's 1973 vintage Matilda with conversion parts from MR Models and Firestorm.
» SOMETHING NEW – QUEEN OF THE DESERT
The Editor teams up with Chris Wauchop to build and paint Tamiya's brandnew Infantry Tank Mark II, Matilda Mk.III/IV.
» PREVIEW
Darren Thompson examines Italeri's upgraded 1:35 scale Bergepanther kit.
» FROM THE FRONT LINE
Joel Russ in Afghanistan walks us several RG33 and MaxxPro MPVs (Mine Protected Vehicles).
» JAGDPANZER '46
Fraser Gray presses on with his Accurate Armour 1:35 scale Jagdpanzer E10, employing some clever techniques along the way.
» NEPTUNE'S WARRIOR
Jose Brito places Dragon's 1:72 scale US Marine Corps Amtrac in a suitably aquatic setting.
» PREVIEW
AFV Club releases its second 1:35 scale Churchill kit – the battlefield support AVRE fitted with the big 290mm Petard mortar.
» FULL SIZED REFERENCE
Glenn Bowen gets up and personal with some details of the Tank Museum's Churchill Mk.III AVRE.
» PREVIEW
Trumpeter expands its LAV family with their latest variant – the ASLAV 25. Sam Dwyer takes a look in the box.
» PREVIEW
AFV Club has added new parts to Skybow's Tiger I to deliver a 1:48 scale Sturmtiger. Luke Pitt takes a look at the mid-scale model of this massive vehicle.
» TECH GUIDE
Building a Display Case Part 2 by Luke Pitt.