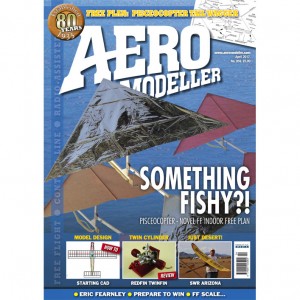 AeroModeller issue 041 (959) April 2017 (Published March 16th)
04 HEARD AT THE HANGAR
DOORS
EDITORIAL, NEWS AND VIEWS.
07 UP AND COMING
CALENDAR OF EVENTS FOR THE
NEXT MONTHS.
08 OFF THE SHELF
A LOOK AT NEW AND INNOVATIVE
PRODUCTS.
10 POWER TRIP –
REDFIN TWIN FIN
THE IMPRESSIVE 1CC TWIN CYLINDER
DIESEL IS REVIEWED BY MARIS DISLERS.
16 SWR ARIZONA
MIKE WOODHOUSE COMPETES AT
THE FF DURATION EVENT IN THE DESERT.
20 GIVE CAD A CHANCE
PART 1. BOB 'SIDESHOW' DAVIS
INTRODUCES THE BASICS OF
COMPUTER AIDED DESIGN.
24 A WALK IN THE PARK
SMALL MODEL FLYING USA
BY PAT TRITLE.
26 BETTER… HABITS – FIELD
PREPARATION
PREPARE TO WIN WITH DAVE HIPPERSON.
30 FREE PLAN – PISCEOCOPTER
NOVEL FF RUBBER POWERED
TAIL-WAGGER FROM GARETH EVANS.
39 AERO POST
READERS' LETTERS BY POST
AND EMAIL.
40 ERIC FEARNLEY
BRIAN FEARNLEY LOOKS BACK AT
THE AEROMODELLING LIFE OF HIS FATHER.
44 ENGINES AND OIL
OZ ENGINE WIZARD BRIAN WINCH
ON THE ALLURE OF DIESELS.
48 SCALE MATTERS
BILL DENNIS GETS READY FOR THE
FF SCALE SEASON.
56 FROM THE ARMCHAIR
STUART 'SUPERCOOL' SHERLOCK ON
FURTHER SUPERCAP ADVENTURES.
60 STARTING VINTAGE COMBAT
PART 2 OF TIM HOBBINS' ADVICE FOR
COMBAT BEGINNERS.
66 TAIL END CHARLIE
THE THOUGHTS OF CHRIS OTTEWELL.