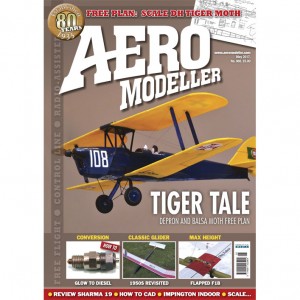 04 HEARD AT THE HANGAR
DOORS
EDITORIAL, NEWS AND VIEWS.
07 UP AND COMING
CALENDAR OF EVENTS FOR THE
NEXT MONTHS.
08 IMPINGTON INDOOR
A VISIT BY THE EDITOR TO THIS
DIVERSE INDOOR EVENT NEAR
CAMBRIDGE.
12 THE OLIVER AUCTION
JOHN GOODALL REPORTS ON THE
AUCTION OF JSO'S PERSONAL
ENGINES.
14 FLAPPED F1BS
MIKE WOODHOUSE ON EXPERIMENTS
WITH VARIABLE FLAPS ON
RUBBER MODELS.
18 GIVE CAD A CHANCE
PART 2. BOB 'SIDESHOW' DAVIS ON
THE 10 CAD COMMANDS YOU NEED
TO GET STARTED.
24 SCALE MATTERS
BILL DENNIS ON THE LATEST FREE
FLIGHT FLYING SCALE MODELS.
28 FREE PLAN – DH TIGER MOTH
THE CLASSIC TIGGIE IS MODELLED IN
BALSA AND DEPRON BY
ARNALDO CORREIA.
42 CLASSIC GLIDERS
PART 2. STUART DARMON ON HOW
TO SELECT AND BUILD 'NOSTALGIA'
GLIDERS FOR FUN AND COMPETITION.
48 SHARMA 19 REVIEW
THIS 3.2CC DIESEL IS TESTED IN CL
AND RC VARIANT BY ADRIAN
DUNCAN.
56 FOR OLD TIMES' SAKE
DON HOWIE'S VINTAGE PERSPECTIVE
FROM OZ.
60 ENGINES AND OIL
PART 2. OZ ENGINE WIZARD BRIAN
WINCH ON CONVERTING GLOWS
TO DIESEL.
66 TAIL END CHARLIE
THE THOUGHTS OF CHRIS OTTEWELL.